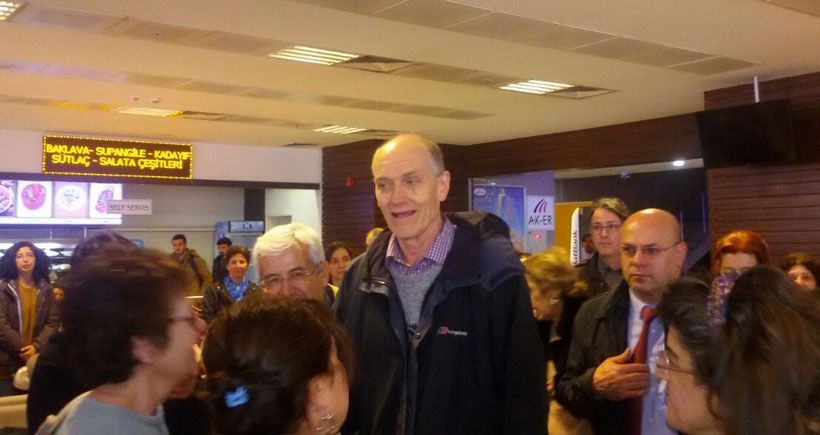 Chris Stephenson in the Istanbul court house shortly before his arrest on March 15.
Update: Supporters in Istanbul reported that Chris Stephenson was deported on March 16. There are unconfirmed reports that he will be charged in absentia to prevent his return.
British academic Chris Stephenson, of Istanbul's Bilgi University, is in detention awaiting deportation after being arrested on March 15 when he went to an Istanbul court to support three other detained academics.
Esra Mungan, Muzaffer Kaya and Kivanc Ersoy were detained on March 10 after they gave a press conference condemning the treatment of the Turkish academics who signed the "Academics for Peace" petition.
The the petition signed by 1128 academics from 89 different universities titled "We won't be part of this crime," called on the Turkish government to end the "massacre and slaughter" in Turkish towns mostly populated by Kurds. Turkish authorities launched criminal investigations against all signatories to the declaration. Thousands of academics, in Turkey and around the world, have since signed it.
Stephenson was arrested at the courthouse after police found a leaflet in his bag advertising a Newroz celebration organised by the Kurdish-led left-wing Peoples Democratic Party (HDP). Police claimed that the leaflets depicted a PKK terrorist holding "something like a molotov cocktail". It actually depicted Kawa the Blacksmith – a mythological figure holding a hammer and anvil.
Kawa is associated with Newroz, the spring festival celebrated by Kurds, Persians and Afghans.
Stephenson's arrest comes after President Recep Tayyip Erdoğan's March 13 call for terrorism to be "redefined", to target the HDP and dissident academics and lawyers.
Stephenson was ordered to be released by a court on March 16 but was taken to Kumkapi Detention Centre to prepare for his deportation. He has worked at the Computing Department at Bilgi University, which he helped establish, for 20 years and is 2 months away from retirement.
Supporters are calling for messages of protest to be sent to the office of the Turkish president at cumhurbaskanligi@tccb.gov.tr and pressure put on the British foreign office by emailing fcocorrespondence@fco.gov.uk, phoning +4420 7008 1500 and tweeting to @foreignoffice and @PhammondMP. To support Academics for Peace, please send your name, university and title to info@barisicinakademisyenler.net.
Like the article? Subscribe to Green Left now! You can also like us on Facebook and follow us on Twitter.