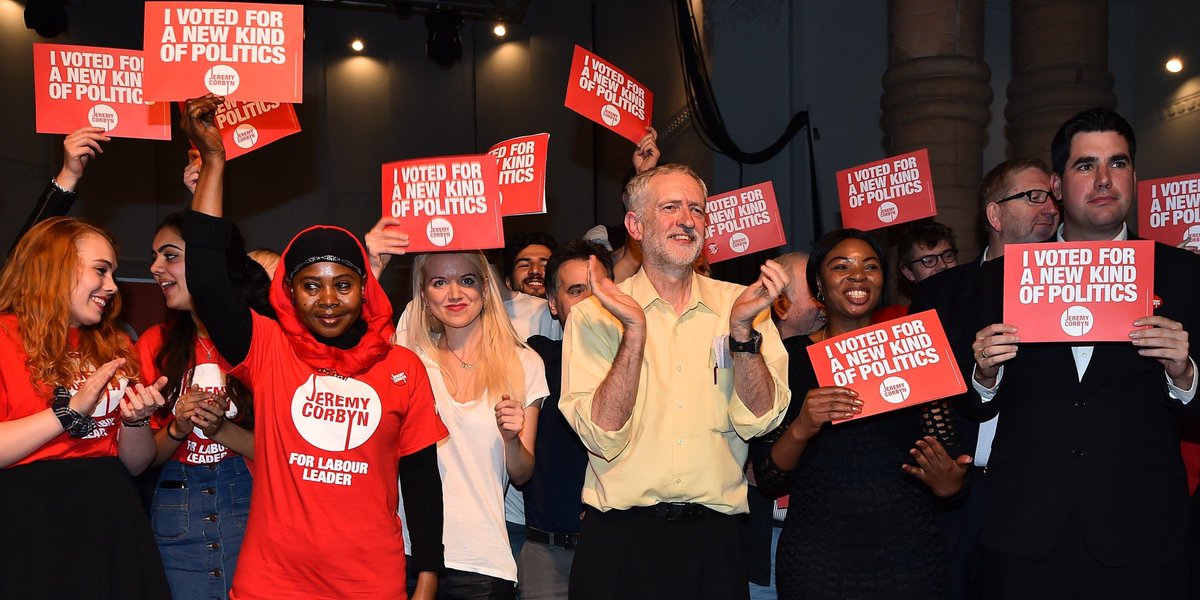 A year in politics changes everything.
When Jeremy Corbyn won the British Labour Party leadership election in September 2015 with about 60% of the vote, the puzzle was how on Earth could a socialist have taken power.
The left, weaker than ever, had never wielded significant power in the Labour Party. This year, the surprise will be if he does not win the leadership elections this month by a significant margin similar to last year's landslide.
What changed? To look at politics with eyes attuned to the norm for the past 40 years, one would expect that every development in the intervening 12 months should have weakened Corbyn's position, rather than strengthened it.
Media attacks
He has been lambasted in the press. A study carried out by the London School of Economics found that some 75% of news coverage in Britain seriously misrepresents Corbyn.
Every major news angle has been an attack, from the BBC's false reporting of a march outside the home of anti-war MP Stella Creasy, to the inflated stories of anti-Semitism under his leadership. Corbyn has been assailed by parliamentary colleagues. Even before his election, there were briefings that he would be overthrown "within days".
It took 10 months for the Labour machine, backed by the media, to actually orchestrate a coup. When it came, it looked at first like a professional operation, showing all the signs of the modus operandi of Labour's deputy leader Tom Watson, who successfully orchestrated an anti-Blair coup in 2006.
It involved a series of resignations from the Shadow Cabinet, carefully timed for maximum damage and disruption, and maximum media saturation. These were followed by another series of statements from grandees, celebrities and journalists, pleading with Corbyn to "do the right thing" and stand down, without any need for a messy re-election process.
In normal circumstances, this would have worked. But then, in normal circumstances, Corbyn would not have been elected. To understand why Corbyn is likely to win his second leadership election in just over a year, with an authoritative mandate, is to understand something about the fragile nature of representative politics in Britain today.
Brexit and bewilderment
As good a place to start in exploring this is the June referendum on European Union membership, in which just over half of the population voted for "Brexit".
In justifying their coup against Corbyn, Labour MPs often cited his supposedly ineffectual or half-hearted support for the "Remain" campaign, thus blaming him for the outcome. Actually, the evidence suggests that the real cause of Brexit's win was a collapse in support for Remain among Conservative voters in the weeks before the referendum.
However, discounting for bad faith among Corbyn's Labour critics, it seems likely that many of them simply don't get why "Remain" lost.
Certainly, racism was a central part of the Brexit sentiment. But the function of racism was to organise an existing reservoir of anguish, resentment and bewilderment of much of the population hit by the economic crisis.
Journalist John Lanchester described the "dominant note" of "bafflement, bewilderment and disorientation" in the country, the sense of having lost again and again, finally of having lost control of the country.
The "Leave" campaign got this, while the government-led "Remain" campaign spoke in a technocratic language, stressing the benefits of trade with Europe and security cooperation, which in no way touched on these wellsprings of resentment.
Remain invoked expert economists and reams of studies suggesting that leaving would be a disaster. But these were the same experts who had championed globalisation as an unmitigated boon while large parts of the country went into a protracted decline. These experts emerged tainted after the credit crunch blew apart their credibility.
The politicians running the campaign were not better placed. For decades, participation in the electoral system had been in decline, a trend that accelerated in Britain in the 2000s.
Then there is the media, whose role in a representative democracy is to represent our major national political debates back to us, as if in our own voice. In fact, what we always got was a soothing establishment voice, but as long as enough of us felt "taken into account", we continued to trust the media.
Trust in politicians and journalists, however, has been in steep decline for years, as many people are effectively excluded from the political system and ignored in the media spectacle.
Killer comeback
The rise of the far right UK Independence Party and the Brexit vote demonstrates that discontent can be articulated by the right just as well as the left. Until last year, the right had a near monopoly on political anger. Corbyn's success was the first major breakthrough for the left in this terrain.
Corbyn articulated varied discontents with the existing political settlement. He spoke to students, for whom the apparatus of supposed "meritocracy" had been trashed by tuition fees and "marketisation". He spoke to young workers, locked out of the labour and housing markets.
He spoke to trade unionists, for whom austerity is destroying their livelihoods and organisations. He spoke to trade union leaders who had watched their influence in a neoliberalised Labour Party plummet.
He spoke to disenfranchised, formerly core Labour supporters who had voted with their feet under the New Labour years. He spoke to users of under-funded public services and privatised utilities, who have been overcharged and underserved.
It was clear after Labour's dismal defeat at the hands of the Conservatives at last year's general elections that it was simply not up to facing these problems. Something had to radically change — first in Labour, then in British society.
As a New Yorker profile aptly put it, Corbyn often has "the moral clarity of a priest". By putting these points in simple axiomatic statements to Labour members and the wider public, he sparked unprecedented excitement for a Labour leadership race.
By contrast, his opponents, in a way that prefigured the mandarin panic of the official "Remain" campaign, found their infantilised, poll-tested slogans failing, and drew a blank.
Politicians who could not but see Corbyn's victory as some sort of joke, struggled over the ensuing year to find the killer comeback. To no avail. Every zinger has fallen flat. Heckling and sabotage, briefing against him, plotting his downfall, and leaking to the press, at a time when politicians and the media are widely held in contempt, did not do the job.
Corbyn declined to be trolled. He shamed them, simply by continuing to articulate more convincing answers to the crisis of British politics than they were able to. Simply because he could talk persuasively on that level, whereas they — often products of a gilded generation of special advisers and technocrats — have never had to.
And he faced down their coup, because his understanding of politics is broader than theirs. They had the political and media establishment, but he understood the power of movements in even a failing democracy. He appealed to that, and in the ensuing ferment drew tens of thousands of new members and supporters into the Labour Party.
That is why, for now, Corbyn still wins.
[Reposted from TeleSUR English. Richard Seymour is the London-based online editor of Salvage magazine. and author of Corbyn: The Strange Rebirth of Radical Politics (read Green Left Weekly's review here.] 
Like the article? Subscribe to Green Left now! You can also like us on Facebook and follow us on Twitter.