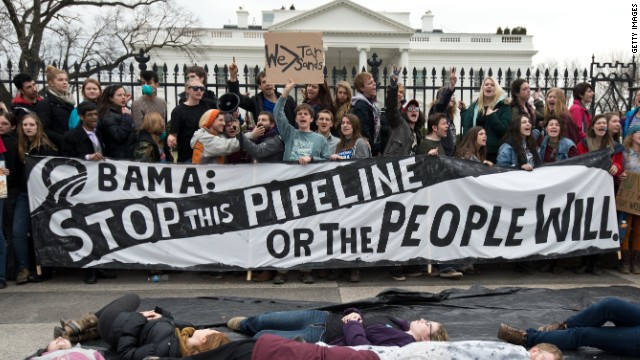 After seven years of intense public campaigning on the Keystone XL, a pipeline that would have bisected the United States carrying the world's dirtiest oil, US President Barack Obama denied Canadian oil company TransCanada a presidential permit for construction on November 6.
The president cited the pipeline's projected contribution to climate change in deeming it not in the national interest.
In response, Friends of the Earth president Erich Pica issued the following statement: "This is an extraordinary moment for grassroots activism and the fight against fossil fuels. For seven years, people from around the United States campaigned together to transform a previously routine decision to approve a pipeline into a leadership test on climate change…
"We have not only succeeded in stopping the Keystone XL pipeline, we've awakened a grassroots climate movement."
'When we fight, we win'
Rainforest Action Network Executive Director Lindsey Allen said: "The president's decision today is the result of years of grassroots people power organising against all odds in every corner of this country.
"This has never been about just President Obama's decision and this has never been about just one pipeline. This is a win for long-term climate justice over short-term corporate profits. And it is only the beginning of what this growing movement will achieve.
"When we fight, we win. Keystone XL was considered a done deal just a few years ago, and the fight to stop it was viewed by DC insiders as a lost cause. But this movement refused to accept the defeatist logic that catastrophic climate change is inevitable and that business-as-usual fossil fuel production will never be stopped.
"Millions of people rejected the conventional wisdom and took on the moral responsibility of acting in the face of overwhelming odds, and together, we proved the doubters wrong again and again.
"Today will reverberate in history as a watershed moment for the climate movement, not as the ending of a campaign but as the beginning of a new paradigm, as the point when we, as a society, began to leave the pipelines unbuilt and keep fossil fuels in the ground."
Even as celebrations broke out and a victory rally took place outside the White House, there was more to this story than the simple rejection of a single pipeline or the "climate legacy" of a president who has announced a 'historic' decision.
Mass movement
Through years of unprecedented campaigning, ordinary people in the US and Canada turned what could have been an unremarkable rubber stamping of yet another fossil fuel pipeline into an internationally-watched fight to stop climate change.
Since 2011, communities across the US have staged more than 750 direct actions and protests — from mass sit-ins at the White House to a tens-of-thousands-strong march on the National Mall.
Farmers, workers, students, Indigenous peoples and communities on the frontlines of oil refineries and extreme weather put their bodies and relationships on the line — risking arrest, talking to their neighbours and taking to the streets.
"We stood our ground and today President Obama stood with us, the pipeline fighters," said Jane Kleeb, director of Bold Nebraska. "Tonight landowners can finally go to sleep knowing their family is safe and sound. Our unlikely alliance showed America that hard work and scientific facts can beat Big Oil's threat to our land and water."
In the words of Tom Goldtooth, executive director of the Indigenous Environmental Network: "The black snake, Keystone XL, has been defeated and best believe we will dance to our victory!"
Trudeau 'disappointed'
Even as they celebrated the KXL rejection on November 6, Canadian climate activists seized on Obama's statement that freshly sworn-in Prime Minister Justin Trudeau — who publicly supported the project — had "expressed his disappointment" at its rejection.
Climate activist and author Naomi Klein tweeted that Trudeau's reaction was a "BAD way to enter the climate conversation," because "dirty pipelines are the way of the past".
The Keystone development came as Canadian environmentalists entered their second of four days of civil disobedience, aimed at convincing Trudeau to freeze tar sands development and commit to a justice-based transition to a clean energy economy.
They took the Keystone news as a chance to double down on their message. "Obama's rejection of the Keystone XL tar sands pipeline sets a new standard for political climate action," said Clayton Thomas-Muller, Stop it at the Source Campaigner with 350.org Canada.
"Justin Trudeau needs to take note that it is time now to listen to the science, to Indigenous peoples, and to freeze tar sands expansion."
Obama's record
Obama took the occasion of the Keystone announcement to tout his administration's environmental track record. But should rejection of this one project be allowed to overshadow his adminstration's numerous shortcomings when it comes to climate?
Obama's rejection of the pipeline comes only months after he approved offshore drilling in the Arctic. An affront to climate activists, it is a near-fatal blow to vulnerable communities and marine life that was only avoided when Royal Dutch Shell called off its exploration project in September.
Through his presidency, Obama has repeatedly been criticised for bragging that he has expanded domestic oil and gas production. Critics say his "all-of-the-above" energy strategy proves he simply does not understand the dangers posed by runaway climate change nor the urgency needed for a rapid and just transition to renewables.
As climate experts have pointed out ahead of the United Nations-sponsored COP21 talks in Paris, beginning later this month, the US is far from a leader in climate action. It is one of several wealthy nations that is not meeting its potential to cut greenhouse gases.
Though it has historically been the planet's leading polluter, the US under Obama has continued to evade its financial obligations to help developing countries deal with the immediate impacts of global warming.
Then there is the Trans-Pacific Partnership, the 12-nation agreement and "corporate power grab nightmare" that Obama has pushed for strongly even as experts warn the deal is a "nightmare" when it comes to environment. In fact, it never even mentions the term "climate change".
[Compiled from Common Dreams.]
Like the article? Subscribe to Green Left now! You can also like us on Facebook and follow us on Twitter.