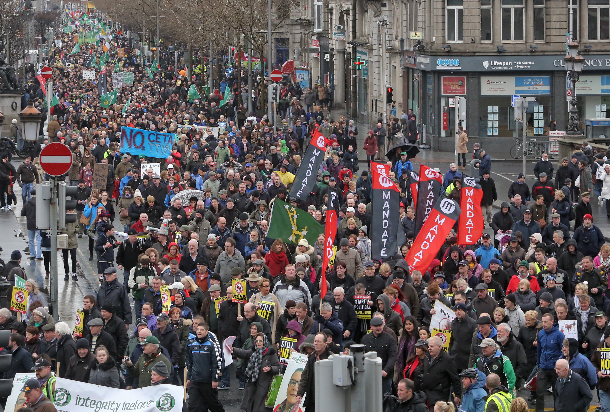 Dublin, February 20. Photo via An Phoblacht.
Tens of thousands of people took to the streets of Dublin on February 20 in support of a Right2Change rally calling for an end to water charges and support for the Right2Change candidates in the February 26 general election, An Phoblacht said the next day
Organisers put the numbers at around 80,000. Right2Change sprung out of the Right2Water campaign, the largest social movement in Ireland for decades that opposes water charges as part of the government's austerity program to make ordinary people pay for the banks' crisis.
The movement sprung out of the anti-water-charges campaign and is backed by a range of left-wing and republican political parties and trade unions. Sinn Fein is the largest party to sign up to Right2Change, which also includes the far-left People Before Profits group and a range of independents.
So far, 106 candidates have signed up to the Right2Change policy principles, which aim to form the basis of a new progressive government
The Right2Change movement drew up these principles based on "an extensive consultation process between individuals, community groups, trade unionists, political parties and independent representatives – all of whom have been involved in the anti-water charges movement".
Right2Change coordinator Brendan Ogle said of the Dublin protest: "The huge turnout sends a clear message to the outgoing [Fine Gael/Labour coalition] government that public anger at water charges remains unabated.
"Water charges have been the tipping point for many people – but they are just one manifestation of the austerity policies pursued by the outgoing government and the previous Fianna Fáil/Green coalition." said.
Watch a video of the huge rally
Former Greek finance minister Yanis Varoufakis has lent his support to the Right2Change campaign, addressing a public meeting via video link ahead of the huge Dublin march, Irish Republican News said.
He said Ireland faced a "stark choice" at elections between those who have imposed austerity on the Irish people and those who have an alternative vision.
Speaking at the Right2Change meeting, Varoufakis said that Irish Finance Minister Michael Noonan and Minister for Public Expenditure Brendan Howlin were both part of a conspiracy to crush the Irish people.
"The Irish general election will either condone and legitimise the Irish people's violation at the hands of an unscrupulous local regime and a brutal European Central Bank," he said. "Or the general election will repudiate and condemn those who violated the Irish people. Your government did what all oligarchs wanted them to do -- they blamed the victims.
"[Taoiseach Edna] Kenny said Irish people went mad borrowing. Really? What happened is that a small band of Irish international bankers, developers and politicians built up a gargantuan debt that you have to take on."
Varoufakis, an academic economist, became Greece's finance minister when Syriza took power in January last year. He resigned seven months later after the Greek prime minister Alexis Tsipras reneged on a promise to oppose austerity measures in a debt deal with the European Union.
Varoufakis accused Noonan of failing to support debt relief for the Greek people at EU level because it would draw attention to his own failure to fulfill his commitments to get debt relief for Irish people too.
"Now you have a chance to send Mr Noonan packing. Our struggle was also a struggle for the Irish people. If our moderate proposals prevailed, a template would have been created for Irish debt restructuring for the end of debt in Dublin."
He said those involved in the Right2Change movement were seeking to put the "demos" back into Irish democracy "in a way the Irish people deserve".
On February 23, polls put governing coalition parties Fine Gael at 30% and at 7% -- both down from 2011, although Labour's drop from nearly 20% reflects popular anger at the traditionally left-leaning party's adoption of harsh austerity measures.
Fianna Fáil, the second of Ireland's traditional two parties, was at 20%, while Sinn Fein, subject to sustained corporate media attacks, was at 15%.
Independents and smaller parties remain unchanged at 28% combined -- a group including the anti-austerity Independent Alliance and the Anti-Austerity Alliance-People Before Profit.
Like the article? Subscribe to Green Left now! You can also like us on Facebook and follow us on Twitter.