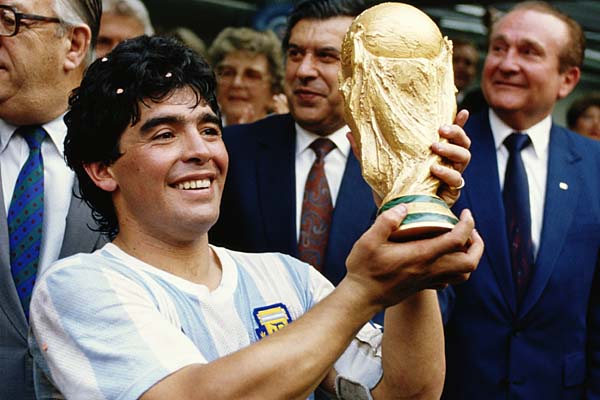 Argentine football legend Diego Maradona confirmed on June 21 that he will run for FIFA's presidency, according to his friend and former co-host of a TeleSUR football show, Uruguayan journalist Victor Hugo Morales.
"Diego will be candidate for FIFA [presidency], with all the authority he has," Morales said, who now hosts TeleSUR's De Chilena! show.
"He has been in the front line fighting from that world of players … Diego has been a spearhead to talk about corruption inside FIFA, and corruption within the [Argentine Football Association.]" show.
Morales confirmed the news on Twitter, saying: "I called Diego Maradona … He told me that he was going to be a candidate to be FIFA president and he authorised me to communicate it."
Maradona has been a long-time critic of world football's governing body and its policies. During the last World Cup, the former star denounced FIFA for charging US$2 million dollars for transmission rights to Haiti, a country struggling to recover from a devastating earthquake in 2010.
FIFA has been mired in scandal since seven of its officials were arrested when Swiss police swooped into a luxury hotel in Zurich ahead of the congress. The officials are set to be extradited to the United States, where they are suspected of receiving close to US$150 million in bribes.
Last week, Swiss officials also said they were investigating 53 new suspected cases of money laundering linked to FIFA, on top of 104 incidents already known to authorities.
Swiss Attorney General Michael Lauber praised banks for reporting the "suspicious" transactions, but said a full investigation could take years. Some of the financial transactions are allegedly linked to FIFA World Cup bids, including those for the 2018 and 2022 games.
Lauber said the investigation "does not exclude" FIFA's outgoing head Joseph Blatter from possible questioning, though he is not under suspicion.
Blatter announced plans to resign from his position at FIFA just days after being re-appointed as its head on May 30 during FIFA's annual congress. He is expected to step down by the end of the year, though Blatter he has recently hinted he may reconsider.
[Abridged from TeleSUR English.]
Like the article? Subscribe to Green Left now! You can also like us on Facebook and follow us on Twitter.