About 8000 unionists gathered outside the Melbourne Magistrates' Court on December 8 to support Construction, Forestry, Mining and Energy Union (CFMEU) officials John Setka and Shaun Reardon, who faced blackmail charges.
The charges relate to allegations Setka and Reardon made unwarranted demands of Boral executives Paul Dalton and Peter Head to stop supplying concrete to construction giant Grocon, which has been in a long-running dispute with the union. It is also alleged that Setka and Reardon arranged for Boral to be boycotted by other construction firms.
The pair may face up to 15 years in jail in the most significant development to emerge from the Royal Commission into Trade Union Governance and Corruption.
ACTU president Ged Kearney and national secretary of the CFMEU's construction division Dave Noonan were there to support the pair.
Before the hearing Noonan told the crowd of unionists: "They won't be found guilty of these charges because these are political charges. This is entirely political; there is no allegation they've tried to personally profit from anything here."
He said the Royal Commission into Trade Union Governance and Corruption was set up to weaken unions and to drive down wages and conditions, particularly for construction workers.
"These charges are extraordinary," he said. "We have never seen charges like these laid before. They are a product of a political royal commission set up by Tony Abbott. It's a royal commission that belongs in the dustbin of history along with Tony Abbott's political career."
He criticised the way the police arrested the pair, in front of their families — Setka was pulled over by police while driving with his two young children on Sunday — as a "blatant media stunt". He said treating union officials like fugitives was designed to create maximum political damage, with little regard for their families.
The crowd, chanted "Johnny Setka here to stay" as Setka and Reardon left the court. They will next appear in court on March 15.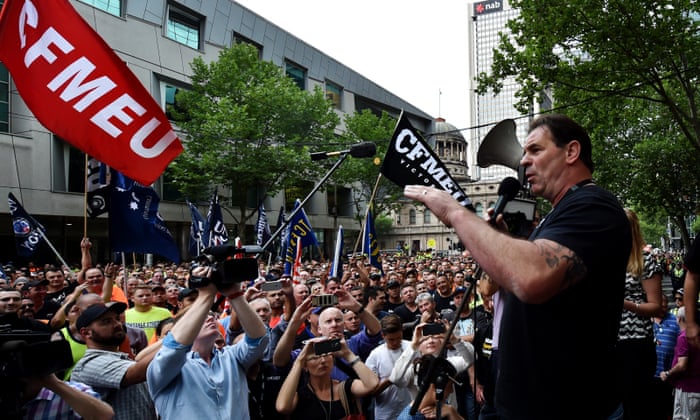 Setka gave this speech to the crowd outside the court
The Royal Commission has been attacking all the construction unions for two years now. One of the reasons they hate the construction unions is because we're so successful.
We work in one of the most dangerous jobs in the world. A construction worker is seriously injured every nine minutes in Australia
How many of us die every year? It's so dangerous, it's unbelievable.
And what do they do? They pull us over on the weekend in unmarked police cars. They prosecute union officials and shop stewards and rank and file members.
They're trying to turn us into Nazi Germany. That's what this Coalition government is trying to do.
We enjoy a 36-hour week. We've got some of the best conditions in the world. And you know what, they're trying to take it off us.
People like Mike Kane, the CEO of Boral — he's on $88,000 a week. Not a bad wicket.
We've got federal police raiding union offices. They raided our Canberra office. They were there for so long they had to get another warrant. They did two shifts. We took them to court and got it overturned.
Seeing all this activity of the federal police, I thought ISIS must be on annual leave. Obviously, ISIS is on holidays and must have tipped off the federal police. We've spent $2.5 million on protecting Australia against terrorism but $100 million on trying to destroy unions.
Boral has killed 14 workers in the last 10 years. They are an anti-union company. They are trying to bring down the union movement.
Boral has been lobbying politicians in Canberra for anti-union legislation to be passed through the Senate.
Along with their other good mates Grocon, who killed three innocent people [when a wall on a Grocon building site fell on three young students walking past] for just walking down the street. Grocon got a $250,000 fine for killing three kids.
I didn't see them pulling Daniel Grollo over and he killed three kids. When we're representing our members, we get pulled over like common criminals.
Sometimes we say, if you want justice you have to fight for it.
I went to a function about domestic violence called by the former commissioner of police. I was surprised to see Daniel Grollo there. It was not long after the wall collapsed [killing three people]. When the wall collapsed they talked about whether you needed permits or not.
Guess who was sitting at that table? There was Daniel Grollo, Robert Doyle, the mayor of Melbourne where the permits would have come from, and the coroner [who was investigating the Grocon wall collapse].
We have to keep fighting, not just for construction unions but for all unions.