After winning 30 extra seats in the general elections three weeks ago and leading in polls, the socialist leader of Britain's Labour Party, Jeremy Corbyn has received a rapturous welcome at Europe's largest greenfield music festival in the southwest of England.
The Labour party's Jeremy Corbyn took to the main Pyramid stage on the second day of the event to address the largely young crowds. Tens of thousands of people turned up to see the 68 year old, making him one of Glastonbury's most anticipated headliners this year along with Radiohead and the Foo Fighters.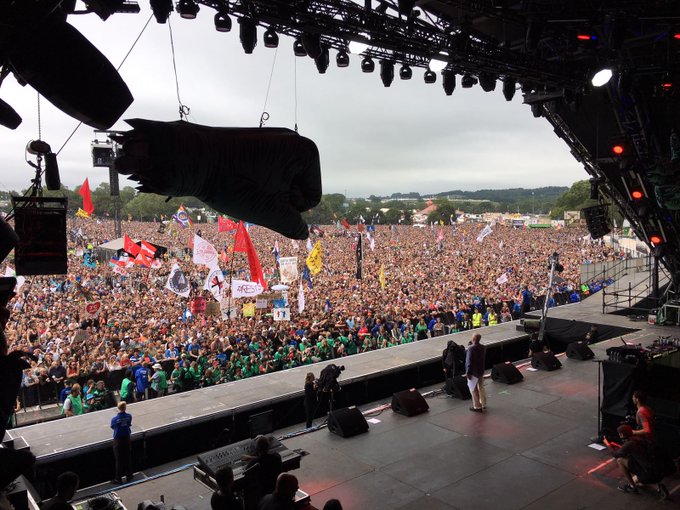 He handed the festival organizer Micahael Eavis a copy of his party manifesto, telling him: "Michael, you brought the spirit of music, of love, of ideas, and of great messages."
Corbyn went on to tell the cheering crowd, "look at the wall that surrounds this festival. There's a message for president Donald Trump. You know what it says? Build bridges not walls." 
Proud to speak at #Glastonbury - about the power we have together to build a country, and a world, #ForTheMany, not the few. pic.twitter.com/Dewk90zzZQ

— Jeremy Corbyn (@jeremycorbyn) June 24, 2017
Chants of "Oh Jeremy Corbyn" have been a constant at this year's Glastonbury Festival, many news outlets have reported, including as crowds queued to enter the festival site. Thousands chanted it when Corbyn addressed them from the main stage, as he spoke of the need for young people to push back against austerity. Echoing Labour'sslogan of "For the many, not the few," Corbyn ended by quoting English Romantic poet Percy Shelley: "
Rise, like lions after slumber
In unvanquishable number!
Shake your chains to earth like dew
Which in sleep had fallen on you:
Ye are many—they are few!"
Britain's former deputy Prime Minister John Prescott immediately tweeted a link to the video of Corbyn speaking with the words, "Something is definitely happening."
The original video has now been re-tweeted over 8,000 times.