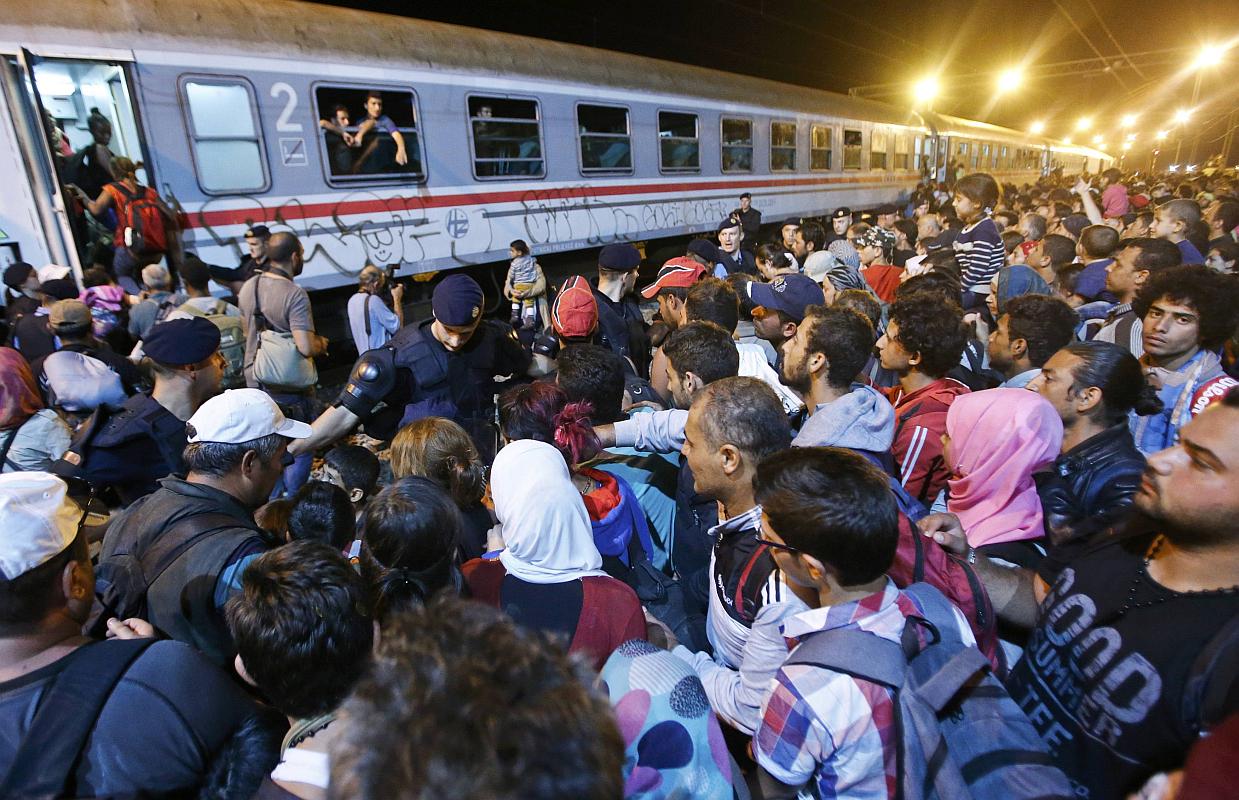 After police violence stopped refugees crossing Serbia-Hungary border, many went to Croatia. Some have since reached Austria and Germany. Croatia-Serbia border, September 18.
Hungarian riot police used tear gas and water cannons against crowds of refugees and migrants on September 17. Clashes at the Horgos-Roszke border crossing with Serbia lasted for hours, after hundreds of refugees and migrants protested to demand entry to Hungary.
Police claim they only deployed tear gas after a group broke through a razor wire fence. Human rights groups say hundreds were injured in the clashes, while police say at least 20 officers were wounded.
Hungarian authorities justified the crackdown by arguing the crowds of refugees and migrants turned violent. A police spokesperson said: "The crowd on the Serbian side became aggressive and threw stones, bottles and sticks at police on the Hungarian side."
Photos circulated in social media showe the crowd included children and the elderly. Serbian Prime Minister Aleksandar Vucic has decried the Hungarian response as "brutal".
Vucic demanded Hungary refrain from firing teargas across the border, and demanded the European Union respond to the crisis.
United Nations Secretary General Ban Ki-moon has also condemned Hungary's actions, saying he was "shocked" by police treatment of refugees and migrants.
"It's not acceptable ... since they are the people who are fleeing the violence and persecution, we must ensure our compassionate leadership," Ban stated.
Hungary has vowed to take a hard line against refugees and migrants who try to cross the border.
Police say around 10,000 people have already been detained for alleged irregular border crossings from neighbouring Serbia. Under new laws, refugees and migrants caught entering Hungary without documentation could face criminal charges carrying three year jail sentences.
The crackdown comes amid an influx of migrants and refugees to Europe, spurred by record high global levels of displaced people.
However, Hungary's crackdown may have already violated United Nations and European Union regulations, according to the International Organization for Migration.
"[Hungary] has obligations to follow, which it looks like this new legislation would be a contravention of … both the international UN conventions on the status of refugees, but also EU legislation regarding asylum and also regarding criminal procedures," said Magdalena Majkowska-Tomkin, the head of the IOM's Hungary office.
[Reprinted from TeleSUR English.]
Like the article? Subscribe to Green Left now! You can also like us on Facebook and follow us on Twitter.