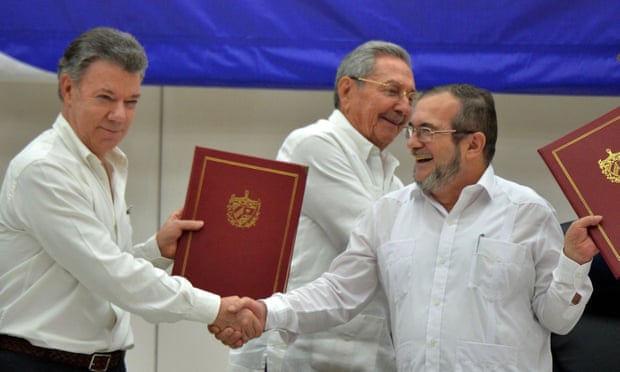 Colombian President Juan Manuel Santos and FARC commander Timoleon Jimenez at a signing ceremony in Havana, Cuba for a historic ceasefire in June.
The majority of Colombians say they will vote "Yes" in a plebiscite to affirm the peace deal ending nearly 50 years of war between the Colombian government and the main rebel group, the left-wing Revolutionary Armed Forces of Colombia (FARC), a new poll has revealed.
According to the Gallup poll results released on August 16, of the half of the population that has made up their mind on how they will vote, 67.5% are expected to vote in favour of ratifying the final peace deal, while 32.5% would vote against.
The accords are set to be finalised in coming weeks in Havana, Cuba, where peace negotiations between the two sides of the conflict have been ongoing since 2012.
Proposed by President Juan Manuel Santos as the mechanism to ratify the peace agreement and greenlighted by the country's Constitutional Court, the plebiscite is expected to take place within a couple of months of the signing of the agreement. It is likely to take place before the end of the year.
To pass, a majority of 4.5 million Colombian voters must vote "Yes". In the unlikely event the deal is voted down, it would not preclude the two sides from renegotiating unpopular provisions, but it could delay implementation of the deal.
Former conservative president, Senator Alvaro Uribe has been campaigning for a "No" vote in the plebiscite. Uribe argues that amnesty for FARC combatants — which will not apply to war crimes or crimes against humanity — was a recipe for impunity. Uribe, who is infamous for his ties to right-wing death squads, wants demobilised FARC rebels to go to jail.
Outstanding issues to be negotiated include reincorporation of demobilised former combatants into society, the sanctioned political participation of the FARC as a non-military political movement and specific end-of-conflict measures.
Colombia's more than five decades of civil war has uprooted more than 6.3 million people and left more than 220,000 people dead. Most of the abuses have allegedly been committed by right-wing paramilitary militias.
[Abridged from TeleSUR English.]
Like the article? Subscribe to Green Left now! You can also like us on Facebook and follow us on Twitter.