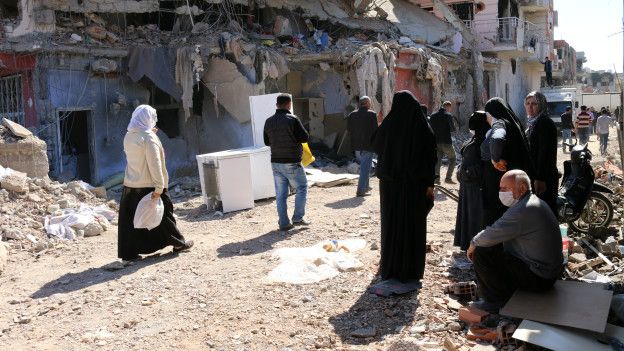 Cizre, March 2. Photo: Hatice Kamer/BBC.
The following report for BBC Turkish by Hatice Kamer in Cizre was translated for Green Left Weekly by I Zekeriya Ayman.
* * *
At the entrance to Cizre, after 82 days of a recently lifted curfew … there is a long queue of vehicles at the check point. While we wait to enter the town, we talk to returnee Gülnaz who had left the town on the 20th day of the curfew. She left Cudi, her suburb in Cizre, with her kids for a village where she has relatives.
"It wasn't only me," she says, "Two or three families left with us. Twenty-five to thirty people were guests in the same house. And not just for a day or a week. We were a huge burden for our hosts. To stop the misery for them we rented a house in Kızıltepe. There rents went up from 500 lira to1200 lira."
Another woman, who wants be anonymous, says she left Cizre on 25th day of curfew.
"The noise of the bombing affected my kids a lot. They still have nightmares. I know we have no home here any more there but what we can do? Thank God we are still alive. I had to come back, there is no place like your own country," she says.
Both women are angry about how the media covered events during the 2.5-month long curfew in Cizre.
Everybody is talking about the three basements where 145 bodies have been recovered. They are all worried about state of their homes.
We passed through the first check point in half an hour.
Dozens of women, children and young people are waiting at the second checkpoint at the state hospital junction.
Two women ask permission to pass from a young police officer. A woman in her 20s with a baby in her arms cries because she has no ID.
"Don't expect mercy from me" he replies, "You raise terrorists and expect me to show mercy toward you? Raise children that obey the state, then you can expect my mercy. Got it?"
The young police officer shouts these words at the crowd.
An ID check takes long time here. They don't allow vehicles. We have to walk to the suburb of Sur.
Most of the houses at the fringe have been damaged. But the real damage is in the two suburbs of Cudi and Sur. If you didn't know what happened here you would think there must have been earthquake.
Levelled buildings and household goods are strewn everywhere. People are crying amongst the ruins and their strewn belongings …
We hear a body has been discovered in a chest at a second floor apartment in Akdeniz Street in Sur and we walk there.
The street is crowded and dozens of houses in the street are in ruins. There is an unbearable smell in the building. Its impossible to tell whether the body is male or female. It is black, the face unrecognizable. The clothes suggest that it is a young person. People cover it with a blanket.
A woman called Pakize İd, says the body of a relative, 16 year old Taha Akdoğan, is among the bodies in one the basements.
"There were 20 youth from our suburb there. All 15 and16 year olds," she says.
People say the debris dumped on the banks of the river contains body parts. Many people are unaccounted for they say.
People are trying to salvage their belongings among the ruins. A woman keens and laments loudly atop her levelled house. Most of houses in Doğan Street are demolished.
A woman called Halime Buz tries to pull out a blanket from among the debris and cries, "We had three apartments here. Now we live in the street. Everything we have is under this rubble. We have lost our lives, everything. God doesn't accept this cruelty."
We go to the basements in Sur and Cudi where it is claimed 145 bodies have been recovered. All three basements are in streets very close to each other. The second basement in Narin Street, Cudi, was at the base of a six-floor building now a pile of rubble.
Someone in the crowd says the body of Mehmet Tunç, the President of the Cizre People's Assembly, was found in this rubble. Mehmet and his brother Orhan Tunç were buried yesterday in Sirnak.
Mehmet Tunç contacted media outlets many times during the siege to report on the conditions and the injured people.
We are told that 31 bodies, including that of the DBP (Pro Kurdish Party) executive member Mehmet Yavuzel, were pulled from first basement in Bostanci Street.
People are naming these basements after local heroes. The first basement we see is in a building that is almost completely destroyed. The basement was burned. People who have seen inside says there are human bones everywhere. We sneaked in to the basement through a narrow passage. A terrible smell pervades. Everything is burnt. The walls are black. We see skulls, and ribs in the ashes. Everybody cries.
Many returning people are going to the basements first, before they check their own homes. Most of the people I spoke to said they know people who died in these basements. A youth says his 16 year-old-cousin is missing and they can't find him, alive or dead.
In the same street, a home owner who has recovered a few belongings sits and watches people quietly while he sits in the debris that was his house. The owner of another levelled house, a young woman called Gulê, starts crying when she sees the state of her house. She left her house 25 days ago when a mortar fell and wounded her husband. She says, "There were no wounded in that basement when we left. I assume they carried wounded people there after we left."
Ismail, a council worker says he helped to carry the 145 bodies from three basements to the morgue. "They put the bodies into body bags and returned them to us," he says. "There was a big atrocity here."
Like the article? Subscribe to Green Left now! You can also like us on Facebook and follow us on Twitter.