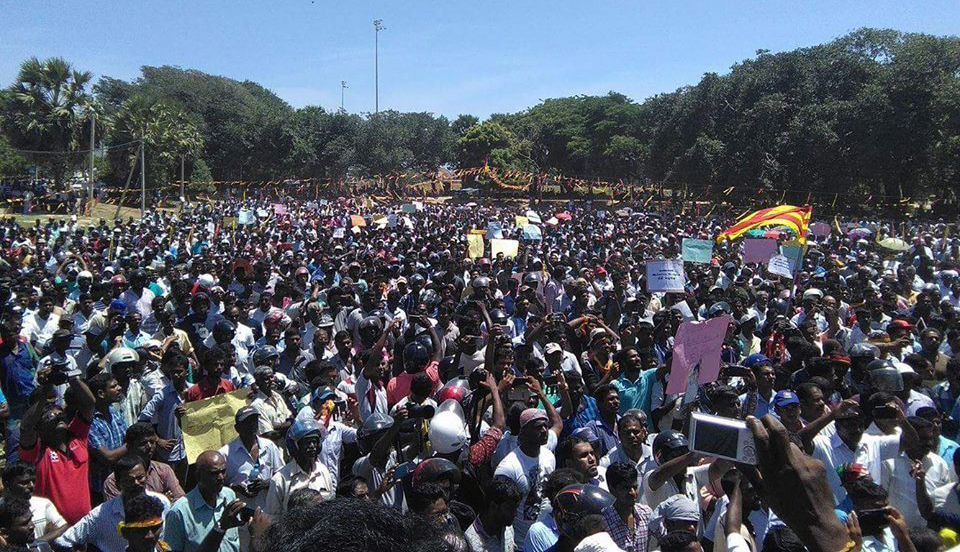 About 15,000 Tamils attended a rally in Jaffna, a city in the north of Sri Lanka, on September 24, Tamilnet reported. The rally, supported by a range of Tamil grassroots movements and political parties, was called "Ezhuka Thamizh" ("Let Tamils rise up"). It endorsed a declaration denouncing the military occupation of the Tamil areas of the north and east of the island of Sri Lanka, and the chauvinist policies pursued by the Sri Lankan government, including the establishment of Sinhalese settlements in Tamil areas.
The declaration said that the "Tamil nation" has been "subjected to Sinhala-Buddhist majoritarian ideology" for several decades. The Sinhalese are the majority ethnic group in Sri Lanka. Most Sinhalese are Buddhists. Successive Sri Lankan governments have promoted a reactionary ideology of Sinhalese-Buddhist supremacy -- an ideology that bears little resemblance to Buddhist teachings.
The declaration said: "Sinhalese colonies, Buddhist temples, and Buddha statues are being aggressively constructed with military sponsorship and the tacit approval of the government...This rally demands that the government immediately halt all efforts to alter the demography of the North and East through Sinhala-Buddhistization and settler colonialism".
The rally also said: "Seven years after the end of the war, the North and East remains heavily militarized. Not only has this occupying military appropriated thousands of acres of land in the North and East, but it continues to appropriate more land, even under this regime [the Sirisena government, elected in January 2015].
Military intervention in Tamil civilian life, and sexual violence against women and children, were condemned. The rally demanded that "the occupying forces immediately leave the North and East". The declaration called for "an international investigation to investigate crimes perpetrated on the Tamil people".
It also called for the repeal of the Prevention of Terrorism Act, and the unconditional and immediate release political prisoners, as well as information about people who have disappeared after being arrested or abducted by the military.
The declaration called for recognition of Tamils as a distinct nation with the right of self-determination. It advocated the establishment of a federal structure for Sri Lanka.
Like the article? Subscribe to Green Left now! You can also like us on Facebook and follow us on Twitter.