Thousands of people came out around Australia in cities and regional centres as part of the growing #letthemstay movement, aimed at preventing the removal of 267 asylum seekers, including 37 babies, from the Australian mainland to detention in Nauru.
Protests were held in Adelaide, Canberra, Darwin, Melbourne, Hobart, Sydney and Perth on February 8, as artists, writers, state and territory leaders and ordinary citizens voiced their support for the asylum seekers, most of whom were detained in Nauru and have been flown to Australia for medical treatment.
Sydney
About 2000 people gathered in Sydney Town Hall Square in a rally called by GetUp! to oppose the Australian government's policy of detaining asylum seekers in detention centres in Nauru and Manus Island. Town Hall square rang out with the now emblemic cry "Let Them Stay!"
Actor Imogen Bailey urged the Sydney crowd to phone Turnbull's office and leave a message. "Our message is 'we want to let them stay'," she said.
Aboriginal activist Ken Canning told the crowd that moving the asylum seekers would be inhumane. "It is an act of gross cowardice," he said. "These are the most defenceless people in the country and it is a gross act to send them back to Nauru. It is a gross act of humanity to keep anyone on Nauru."
Lord Mayor of Sydney Clover Moore said: "Our politicians have failed to deliver policies that address the global refugee crisis. They are lily-livered and gutless: more concerned with winning votes than saving lives."
Photos: Zebedee Parkes and Peter Boyle
Melbourne
About 6000 people took to the streets of Melbourne last night to tell Prime Minister Turnbull government refugees from Nauru were welcome in Victoria. They rallied outside the State Library of Victoria urging the government to stop the planned deportation of 267 people including 37 babies to Nauru.
Crowds chanted "let them stay" and were given the Prime Minister's phone number by organisers to ensure the message was sent to Canberra.
One sign asked: "To Malcolm and Peter, would you send your grandchildren to Nauru?"
Perth
Somewhere between 600 to 1000 people joined a vigil in Perth at St George's Cathedral to "stand for sanctuary" and say #LetThemStay. Powerful moments included the speech by Refugee Rights Action Network member Michelle Bui and the hip hop performance by Marksman Lloyd. The Dean of Perth Richard Pengelley told the crowd that the St George's Cathedral had been made a place of sanctuary for refugees.
Armidale
More than 130 people attended the Armidale Stands for Sanctuary rally at Central Park.
One of the organisers, Bea Bleile, said: "Armidale Rural Australians for Refugees will not rest until Australia treats all refugees and asylum seekers as human beings.
"The abuse on Nauru, Manus Island and in the concentration camps on Australian territory must stop. We will not rest until the camps are closed and mandatory detention has been repealed."
Brisbane
About 400 people came to the Brisbane protest, which took the form of a silent reflection at St John's Cathedral in the city.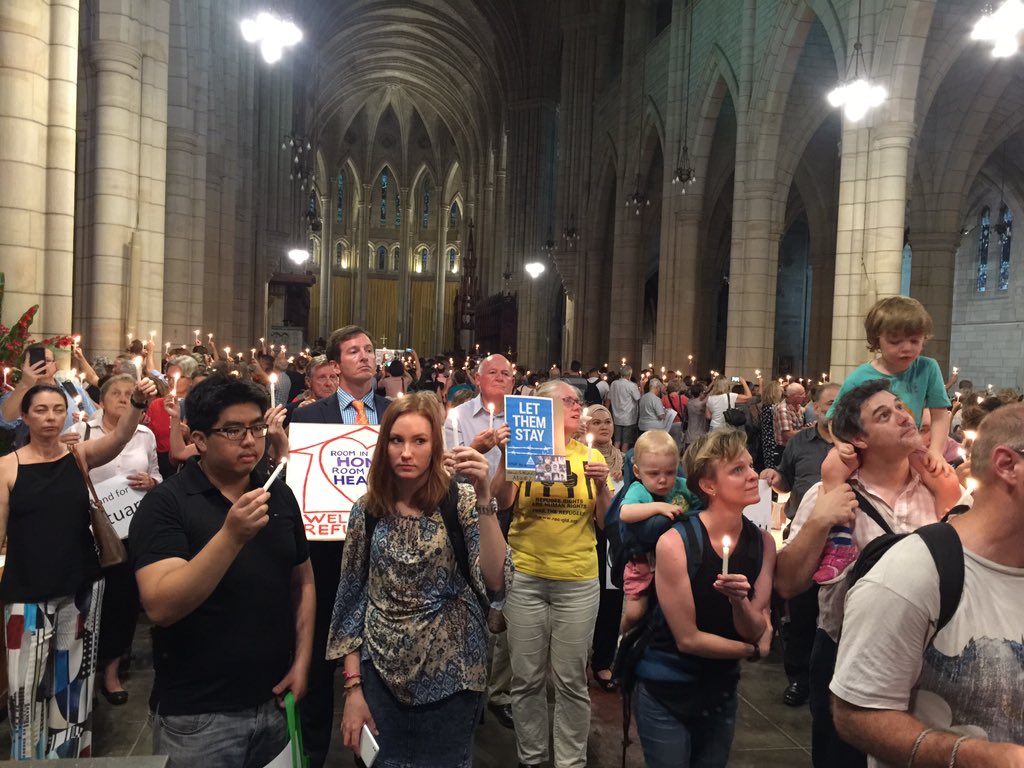 Darwin
A record crowd of about 400 people marched through Darwin before rallying on Nightcliff Foreshore.
The rally featured big contingents from church groups supporting the call for sanctuary. Medical professionals opposed to the sending of their patients back to Nauru spoke as did representatives from the Uniting and Catholic churches.
Paediatrician Dr Josh Francis told the crowd: "We can show mercy to these people, we can show compassion to them, we can do something vastly different from the terrible treatment they have experienced."
The rally was organised by the Darwin Asylum Seeker Support and Advocacy Network.
Photos: Diane Brodie

Photo: Fernanda Dahlstrom
Like the article? Subscribe to Green Left now! You can also like us on Facebook and follow us on Twitter.