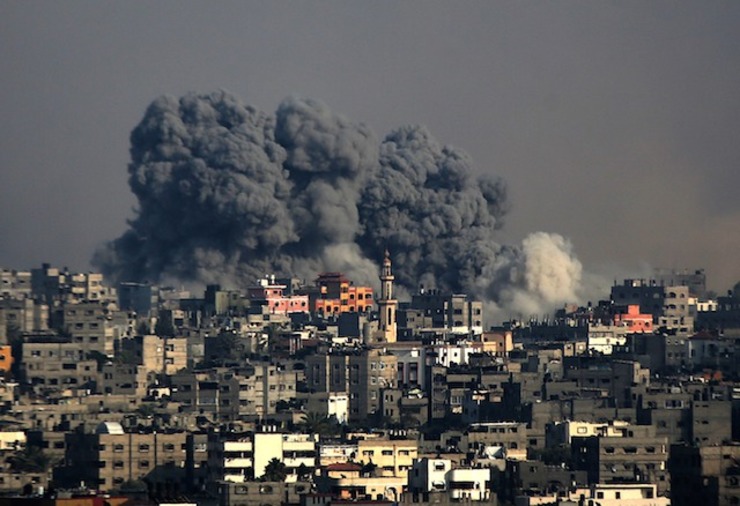 Gaza, July 2014.
Israel plans to shut down Palestinian TV station
Israel plans to shut down a new Arabic-language television station that services Palestinian citizens of Israel, Electronic Intifada said on June 25.
The station's name — Palestine 48 — refers to the parts of the country occupied by Israel during the Nakba ("Catastrophe"), the 1948 ethnic cleansing of Palestinians from their homeland. It began programming on June 25.
Yet Israel's hard-line Prime Minister Benjamin Netanyahu has already asked the ministry of communications to shut the station down.
"The prime minister ordered the ministry to take any and all action within its purview, both criminal and bureaucratic, to stop the broadcasts," Israeli news outlet Ynet said. "One of the main elements of the ministry's investigation will be the legality of the Palestinian Authority's funding of the station."
Israeli efforts to close down the television station, which receives funding from the Palestinian Authority, are only the latest in a lengthy history of cracking down on Palestinian media in present-day Israel, the occupied West Bank and Gaza.
Israeli authorities have made "persecuting Palestinian cultural and media institutions a daily routine," said Majd Kayyal, the media coordinator at Adalah, a Haifa-based legal centre that represents Palestinians in Israel.
Israeli official threatens to strip Palestinian MPs citizenships
Israeli Deputy Interior Minister Yaron Mazuz threatened Palestinian Arab members of the Knesset, Israel's parliament, on June 25. Mazuz said Israel could strip them of their citizenship, TeleSUR English reported that day.
The threat came after the MPs criticised a plan to block Palestinians who marry Israeli citizens from acquiring Israeli citizenship.
"We are doing you people a favour by even allowing you to be seated here," Mazuz, who is also a member of Israeli Prime Minister Benjamin Netanyahu's Likud party, said during a debate on the "family reunification" law in the Israeli Knesset.
Mazuz directed his comments to the Arab Joint List coalition, which entered the Knesset as part of Israeli general elections in March. The government official reportedly added that "terrorists cannot sit here," referring to Palestinian Arab lawmakers.
Arab lawmakers responded to Mazuz's comments by reminding him that they had the right to be in this land, where their ancestors had lived for centuries. Around 2 million of Israel's 8.5 million population are Palestinian Arabs, who remained in the country after Israel was established in 1948.
Palestinians hand ICC evidence of Israeli crimes
Palestinians handed evidence of alleged Israeli war crimes to the International Criminal Court on June 25 as part of a preliminary investigation into last year's invasion of Gaza, TeleSUR English said that day.
"The files to be presented to the court refer to war crimes and crimes committed by individuals of the Israeli leadership," the Palestinian Liberation Organisation said in a statement.
Prominent peace activist Mustafa Barghouthi, head of the Palestine National Initiative, said the files include hundreds of pages of evidence against Israeli forces.
"Our aim is to establish war crimes in order that an investigation by the chief prosecutor's office is carried out and to remove immunity from Israel and its leaders, achieve justice, apply human rights conventions, protect Palestinians and hold criminals accountable for their crimes."
The ICC case is still in its early stages, but could potentially lead to indictments against Israeli officials if the court finds evidence of human rights abuses.
Like the article? Subscribe to Green Left now! You can also like us on Facebook and follow us on Twitter.