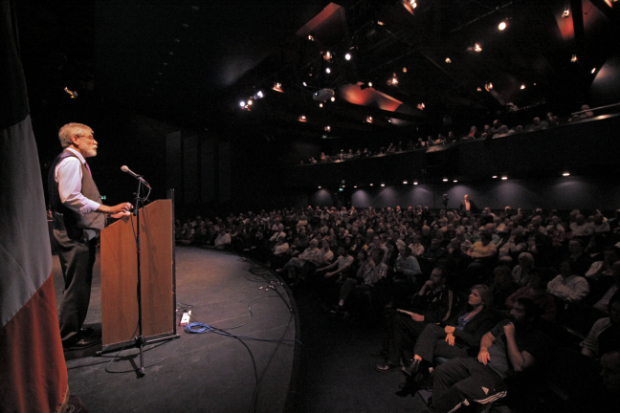 Sinn Fein president Gerry Adams addresses the June 29 rally for Irish unity.
Hundreds of people packed into the Liberty Hall Theatre in Dublin on June 29 as calls for a referendum on a united Ireland continue to grow following Britain's June 23 vote in favour of leaving the European Union.
It came after the six counties in Ireland's north still claimed by Britain voted to stay in the EU.
Member of the European Parliament for republican party Sinn Fein Matt Carthy hit out at the reactions of the mainstream media to the emerging political situations in Ireland's north and Scotland — which also voted to remain in the EU – post-Brexit.
Carthy noted the failure of Ireland's public TV channel RTE to report a barnstorming speech by northern Sinn Fein MEP Martina Anderson, which made headlines on British and European news channels.
Carthy said: "Something big is happening and the great and the good in this state are doing everything in their power to not to see it.
"If the failure by the media to recognise the magnitude of the situation we find ourselves in isn't surprising, the same attitude within political leaders who publicly profess to favour Irish unity is extremely disappointing."
Carthy also hit out at the other Irish parties, including the two traditional parties of government Fianna Fail and Fine Gael, as well as Labour and the left-wing AAA/PBP after their members of the Dail (Ireland's parliament) opposed calls for a referendum on united Ireland.
He singled out Fianna Fail leader Micheal Martin's contribution, describing it as "shameful" and noting: "Those who say 'this isn't the right time' are looking for excuses. They are the same people who usually say 'we cannot afford a United Ireland'. The truth is we can no longer afford a divided Ireland."
Sinn Fein vice-president Mary Lou McDonald said a referendum on a united Ireland is "firmly on the political agenda", noting recent economic studies which show a united Irish economy would benefit the island to the tune of up to €36 billion.
"Ireland united is the only way forward," she said.
Sinn Fein President Gerry Adams called on all parties who support a united Ireland to get active on the issue. He said republicans must grasp the opportunity presented by the Brexit crisis to redesign the constitutional and political future of the island.
"Sinn Fein seeks to reshape the Ireland of today; to end past divisions and resolve outstanding differences," Adams said.
"To build through reconciliation a new partnership and unity between people. To pursue the happiness, peace, and prosperity for all the people. To unite the orange and green."
[Reprinted from An Phoblacht.]
Like the article? Subscribe to Green Left now! You can also like us on Facebook and follow us on Twitter.