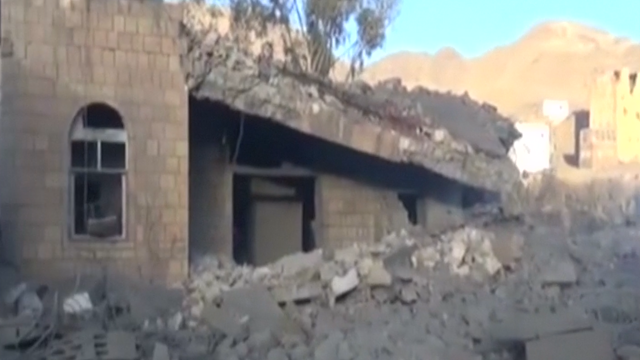 Aftermath of Saudi bombing of MSF hospital.
The Saudi-led coalition bombed a Doctors Without Borders (MSF) clinic in Yemen, the charity's mission head said.
The Morning Star said that Hassan Boucenine said two air raids hit the facility in northern Saada province at about 11pm on October 26. "It's completely destroyed," he said.
The first strike hit the centre's administration office — unoccupied at the time — sending the 12 staff and patients fleeing from the main building, which was hit about 10 minutes later.
MSF doctor Ali Mughli said several occupants were injured in the attack.
"The air raids resulted in the destruction of the entire hospital with all that was inside — devices and medical supplies — and the moderate wounding of several people," he said.
The attack on the defenceless medical facility mirrored the deadly US bombing of an MSF hospital near the Afghan city of Kunduz on October 3, in which at least 13 staff and 10 patients were killed.
Saudi Arabia and its regional allies have been bombing Yemen since April in an attempt to reinstall President Abed Rabbo Mansour Hadi, who fled a rebellion by the Ansar Allah movement, dubbed the Houthis, joined by army units loyal to former president Ali Abdullah Saleh.
Earlier this month, Spanish-language media reported that 800 Colombian mercenaries would arrive in the southern port city of Aden at the end of this month, joining troops from Saudi Arabia, the UAE and Sudan.
Like the article? Subscribe to Green Left now! You can also like us on Facebook and follow us on Twitter.