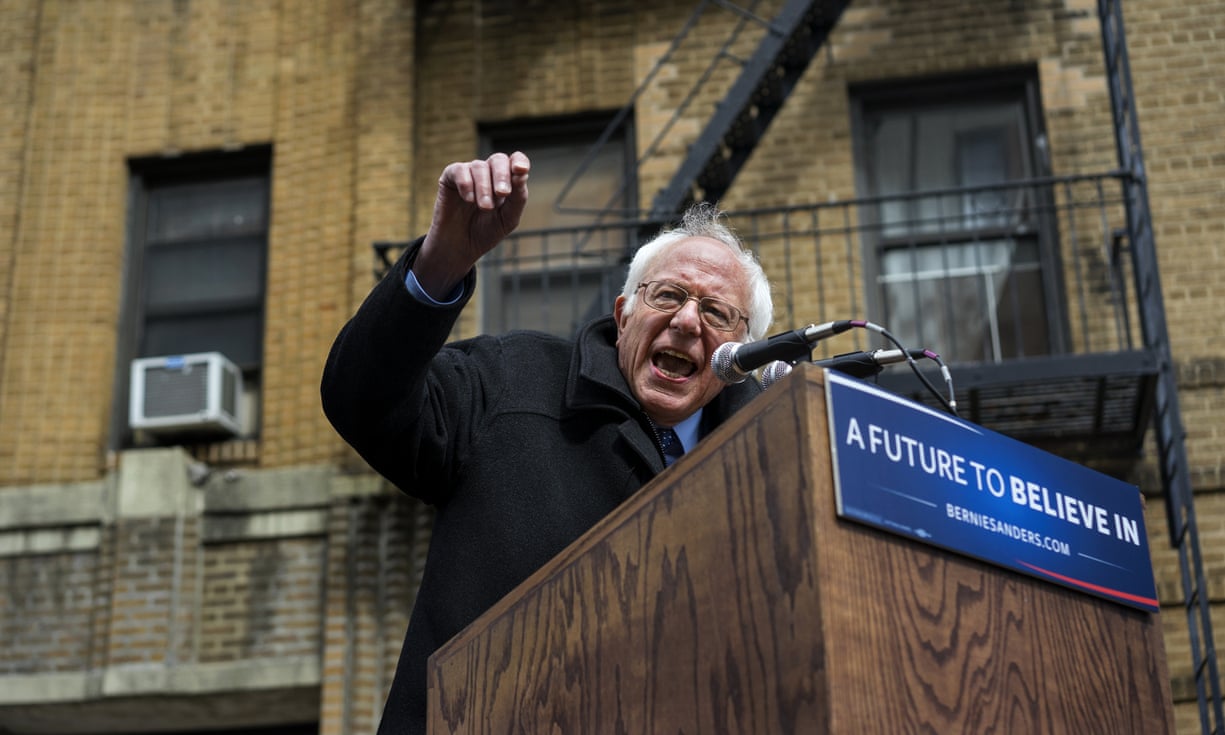 Sanders addresses rally outside his childhood home in Brooklyn, New York. April 8.
A McClatchy-Marist poll, conducted at the end of March, puts self-described democratic socialist Bernie Sanders ahead of establishment favourite Hillary Clinton by two percentage points in the Democratic presidential race, TeleSUR English said on April 5.
The poll comes after Sanders pulled off a significant win in the Wisconsin Democratic primary on April 5. Sanders won the race with 56.6% of the vote, despite having trailed Clinton by 53 points in an October poll. Sanders also won all three primary races on March 26 in Washington, Alaska and Hawaii. Sanders has won seven out of the last eight Democrat primaries.
US Uncut said of the Wisconsin result: "The win is still a surprising one for Sanders, as he was the underdog as recently as ten days ago. A Public Policy Poll conducted in late March predicted an 18-point win for Hillary Clinton in the Badger State."
TeleSUR English said, in his speech in Wyoming to supporters on the night of April 5, Sanders said his campaign was gathering momentum, noting: "Momentum is starting this campaign 60 to 70 points behind Secretary Clinton. Momentum is having national polls showing us one point up, or one point down.
"Momentum is that when you look at nationwide polls … we are defeating Donald Trump … our margin over Trump is wider than that of Secretary Clinton.
"With a victory in Wisconsin tonight … we have now won seven out of eight of the last caucuses and [primaries], and we have won almost all of them with overwhelming, landslide numbers."
Sanders lauded the efforts of youth: "At a time when most pundits said that [the youth didn't want to get involved]… all over this country, young people are saying they want to help determine the future of this country."
US Uncut said that, in his speech, Sanders framed his candidacy as just the latest facet of a decades-long progressive movement built on the determination of people organising to overcome establishment thinking.
"Real change in our country's history, whether it is the trade union movement, whether it is the civil rights movement, whether it is the women's movement, whether it is the gay rights movement, they understand that real change never, ever takes place from the top down, it always takes place from the bottom up," Sanders said to cheers and applause.
Sanders compared his phenomenal momentum to the Fight for $15 minimum wage campaign waged by unions and workers' rights campaigners across the US. A $15 per hour minimum wage has recently became reality in two of the most populous states in the country. Yet US Uncut noted the Fight for $15 organisers had been consistently told, since 2012, to lower expectations and settle for what was deemed "realistic".
Ahead of an important contest in New York on April 19, Sanders
held a campaign rally in Philadelphia as news broke that he and Clinton were neck-and-neck among Democrats in a national poll, TeleSUR English said on April 6.
The McClatchy-Marist poll, conducted in late March, had Sanders leading Clinton by two points, 49% to 47%. He is now beating Clinton among Latinos, 63% to 31%.
Among Democrats and Democratic-leaning independents under 30, Sanders is favoured by 76%. And among those under 45, Sanders wins 64% to 32% to Clinton.
TeleSUR English said on March 30 that Sanders Sanders needs to win almost 57% of the delegates available in the remaining primaries to have a shot at the nomination. The Democrat system of granting many votes to "super delegates" — unelected Democrat officials that overwhelmingly favour Clinton — makes it harder for Sanders, despite the momentum he is gathering.
After the Wisconsin race, Sanders remarked that Clinton — all but anointed the Democrat candidate last year — was "getting a little bit nervous" after losing seven of the last eight contests.
In the Republican race, Ted Cruz beat his main rival Donald Trump in Wisconsin on April 5. Although Trump remains well ahead of any rivals in delegate counts, TeleSUR English said he needed to win 70% of remaining delegates to win an outright majority and avoid a contested Republican convention in July.
If he fails to do so, the strong anti-Trump sections of the Republican Party are likely to unite to seek to block his nomination.
Polls also suggest that while the right-wing populism of Donald Trump could easily beat a pro-corporate establishment candidate like Clinton, Sanders' pro-poor and pro-worker platform gives the Vermont senator a clear lead over Trump.
TeleSUR English said on March 24: "According to the [the Quinnipiac University] poll, a presidential election between Sanders and Trump would see the self-proclaimed social democrat and Vermont senator win with a double-digit lead against the billionaire, securing 52 percent of the vote compared to Trump's 38 percent ...
"Meanwhile, Clinton's chances are significantly lower. The former secretary of state, according to the poll, would defeat Trump by 46 to 40 percent and Cruz by 45 to 42 percent."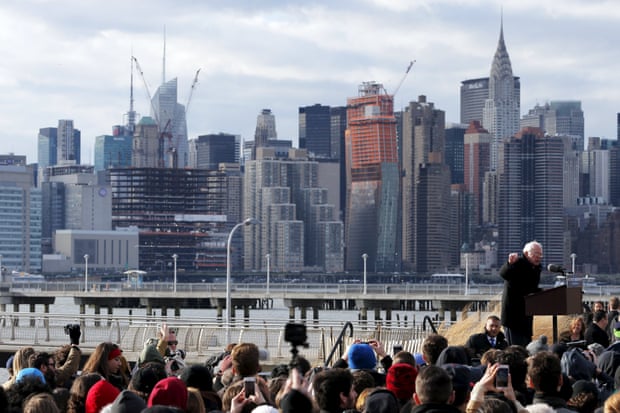 Like the article? Subscribe to Green Left now! You can also like us on Facebook and follow us on Twitter.