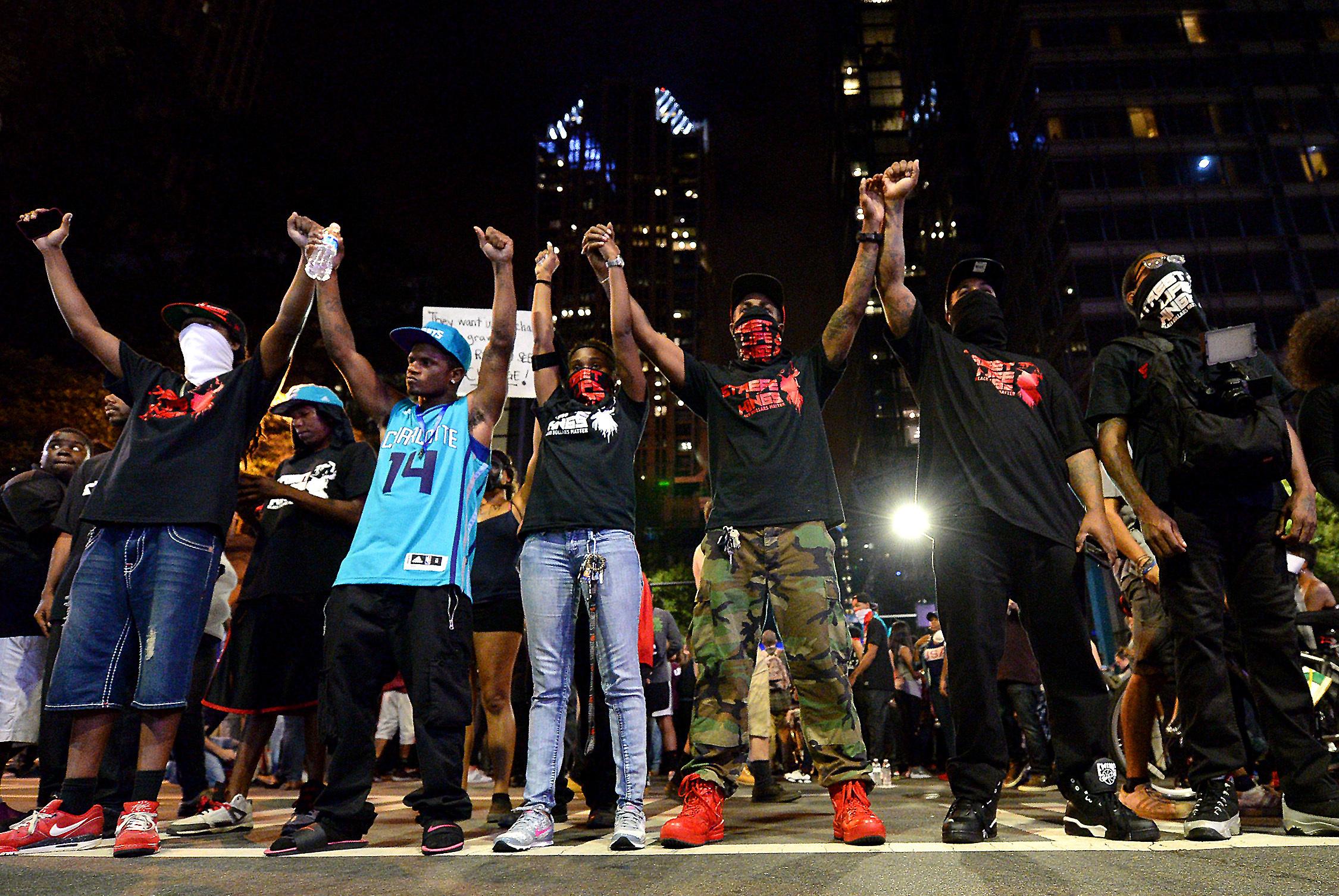 Charlotte, North Carolina, September 22.
Protests and tear gas have filled the streets of Charlotte, North Carolina nightly since the murder on September 20 of Keith Lamont Scott, a 43-year-old African American, at the hands of police in yet one more case of racial profiling.
Scott's killing came just a day after the release of the chilling video of the shooting of an unarmed Terence Crutcher by police in Tulsa, Oklahoma, which also led to angry protests.
In North Carolina, arrogant city and state authorities have only further inflamed the situation by declaring a curfew and state of emergency.
The intensity of the protests is just the most recent example of frustration at the continuing epidemic of police murders, committed disproportionately against African Americans. In Charlotte, as elsewhere, vapid calls for "peace" do nothing to answer the legitimate questions and justifiable anger of communities living under armed occupation.
Racially profiled
Keith Lamont Scott was a father of seven who, family and neighbours report, waited every day for his son coming home from school in the parking lot where he would eventually be murdered. He would walk laps, with a cane in one hand and an ever-present book in the other, to pass the time.
Just before 4pm on September 20, Charlotte-Mecklenburg police officers approached Scott, allegedly mistaking him for a suspect with an outstanding warrant. Police have confirmed that the cop who approached him was an undercover plainclothes officer. Minutes later, Scott was fatally shot four times by Officer Brently Vinson.
The police version of events is that Scott emerged from his car with a gun in his hand and "posed a threat" to the officers who were approaching him. They claim to have recovered a gun from the scene. It should be noted that it is legal to carry handguns in North Carolina.
There is footage of the shooting from dashboard and body cameras, but Police Chief Kerr Putney said the videos will not be released "to the masses".
Ironically, just over a month ago, Republican Governor Pat McCrory signed into law legislation blocking the release of police videos without a court order. The new law goes into effect in one week. McCrory said the law is needed to protect police officers — but for Black people in Charlotte and around the country, it is not the police who need protecting.
The family was allowed to view the police video. Their lawyer Justin Bamberg said the footage shows Scott walking slowly backwards with his hands at his sides when he was shot. Bamberg said it is impossible to tell if Scott had anything in his hands.
(Scott's wife has since released the video to NBC, which can be seen below.)


Another witness described the aftermath of the shooting this way: "They didn't even take a statement from anybody. Not a statement from his wife, not a statement from his children, not a statement from anybody who was here watching. Who are they going to take a statement from? The officer who took his life?
"You get shackled for reading while Black, walking while Black, driving while Black, running while Black. Being born Black in this country is a goddamn crime."
Regardless of what the video shows, some facts are obvious. Another Black man has been killed by police in another case of racially profiled mistaken identity.
He was not committing a crime, there was no risk or danger present in the situation, and there wasn't even a call to police. Scott is the 790th victim of police murder this year and the sixth person killed in Charlotte.
Rage erupts
Desperation at the ongoing epidemic of killings — disproportionately of African Americans — turned to justifiable rage and protest in Charlotte.
Within hours of Scott's death, dozens of people blocked Old Concord Road where the shooting took place, chanting "Hands up, don't shoot" as they raised their arms. As night fell, the crowd swelled, and militarised riot police tried to forcibly disperse the protest with tear gas.
Protesters — holding signs reading "Stop killing us" and "It was a book" — fought back, throwing rocks and gas canisters at the lines of police. Angry demonstrators took over a stretch of nearby highway Interstate 85, where the contents of blocked trucks were set on fire as part of the barricades used to defend the highway sit-in. Later that night, police dispersed the protests.
The next night, there were vigils across the state. The vigils included coordinated actions at five historically Black colleges.
In Charlotte, hundreds of people marched through the central Uptown area for many hours. The demonstration was peaceful and included families and children, but police once again responded with repression, using tear gas and flash-bang grenades.
One person later died after being shot in the face during the protests. City officials claim the shooting was the result of an unknown civilian firing randomly into the crowd.
But witnesses present a different story. They say police began firing "non-lethal" rubber-coated bullets to drive back protesters who had forced them into a hotel. Many eyewitnesses corroborate this account of police opening fire — making it more likely that officers shooting on a peaceful protest were responsible for the death.
The shooting changed the tone of the protest that night. Injuries, arrests and broken windows followed. The next day, McCrory declared a state of emergency and deployed the National Guard and Highway Patrol against protesters.
But in defiance of a curfew, the protests were even larger on September 22. With helmeted soldiers patrolling in Humvees and helicopters hovering overhead, more than a thousand people marched for hours through the Uptown streets. With signs and banners demanding justice for Scott and getting the National Guard out of Charlotte, the feeling of defiance was larger and more resolute.
Police responded to the march with tear gas, pepper spray and rubber bullets after a large group tried to shut down Interstate 277. The marching ended at the county jail, where prisoners flashed their lights and raised fists from their windows in solidarity.
Victim blaming
All of the bias and victim-blaming so common in the aftermath of police killings has been on display in Charlotte — along with false praise for the "difficult job" that police do.
First, there was the pervasive use of the phrase "officer-involved shooting". This downplays the fact that the police are not just "involved" in such shootings, they are the killers.
Next, for the first 24 hours after the killing, the city's main newspaper, the Charlotte Observer, referred to Keith Lamont Scott as "the gunman" — a further example of journalism operating as the propaganda arm of the police.
Similarly, the violence of the protests was cause for hand-wringing among pundits and politicians. The New York Times reported that "things got ugly", McCrory lectured that "violence will not be tolerated", and pleas urging calm and restraint echoed from every liberal corner of the state.
If only these voices decried the "ugliness" of a racially motivated murder and declared that the violence and repression of police would not be "tolerated". Reverend William Barber, president of the North Carolina NAACP, exposed this hypocrisy with his statement: "To condemn the uprising in Charlotte would be to condemn a man for thrashing when someone is trying to drown him."
Austerity
Like other cities that have risen up in rebellion after a police murder, what lies behind the demonstrations in Charlotte is a long and deadly history of racism and austerity.
The same governor who called in the National Guard to suppress legitimate protest was at the helm of a state legislature that pushed through huge state budget cuts that affect all working people — especially people of colour.
Since 2013, the Republican majority in the state legislature have introduced racist voter ID laws and draconian restrictions on women's access to abortion. They have given more tax cuts for the rich, rejected billions in federal money for Medicare, given a green light for fracking and had 170,000 North Carolinians kicked off of unemployment benefits.
They also repealed a law that allowed for challenging racist bias in death penalty convictions and rammed through HB 2, the so-called "bathroom bill" that legalises discrimination against trans people, along with prohibiting living wage ordinances.
The killing of Scott occurred one day before the one-year anniversary of a mistrial in the prosecution of the police officer who killed 24-year-old Jonathan Ferrell. Seeking help after a car accident, Ferrell was shot 12 times by police. Despite overwhelming evidence of police wrongdoing, the state decided not to retry Ferrell's killer.
McCrory's hard pro-cop position in the case earned him the endorsement and support of the Fraternal Order of Police in his gubernatorial campaign. His allegiances are clear.
These are the conditions that protesters rage against while demanding justice for Scott. Until the conditions change and until police stop killing people, we can expect more fierce protests like in Charlotte.
In the meantime, opponents of police violence and racism must try to build as broad a movement as we can. In Charlotte, the demonstrations are continuing.
To those who criticise how people in Charlotte protest the epidemic of police murder, it is worth noting the words of Trinidadian socialist historian CLR James: "When history is written as it ought to be written, it is the moderation and long patience of the masses which men will wonder, not their ferocity."
[Abridged from US Socialist Worker.]
Like the article? Subscribe to Green Left now! You can also like us on Facebook and follow us on Twitter.