April 22: Jailed Catalan vice-president Oriol Junqueras publishes this comment in today's Ara (in English).
April 22: 49.2% of those polled in April 2018 GESOP poll,  published in today's El Periódico, believe Catalan political prisoners should remain in jail with 43.5% against. 83.2% of Catalans opposed to their imprisonment. Only 29.6% believe that the solution to the Catalan conflict lies in letting Spanish legal system continue with its case against the Catalan leaders.
April 22: Increase in Spanish support for a referendum in Catalonia (from 39.7% in a February 2017 GESOP poll to 46.9% in the March 2018 GESOP poll). Increase in support for a federal reform of the Spanish Constitution (47.6% for, 40% against). 78.7% of Catalans would support a Scottish-style referendum negotiated with the State.
April 22: GESOP poll reveals that 82.7% of those interviewed, including 47.7% of PP voters, think Spain needs a change of governing party. 78.6% (64.5% of PP voters) believe the Rajoy government should call new elections if it cannot get the 2018 budget passed.
April 22: Results of the latest GESOP poll. The main trends since June 2016 elections:
Parties of the all-Spanish right (PP and Citizens would be in a majority (over 176 seats in the 350-seat Congress);
Citizens overtakes corruption-stricken PP as the preferred party of the Spanish right;
Both PSOE and Unidos Podemos lose support;
ERC overtakes PDECat (formerly CDC) as the majority party of Catalan nationalism.
April 22: PSOE federal secretary addresses German SDP congress to explain that Catalan independence sentiment is not only a threat to Spain, but also to Europe.
---
April 21: Spanish National Police photographing Barça fans during their booing and whistling of the Spanish national anthem.
April 21: Spanish National Police confiscate yellow t-shirts and scarves from Barça fans outside Wanda Metropolitan stadium, where King's Cup final is to be held.
April 21: Lluc Salella (CUP) "Investing Puigdemont is a question of political will."
April 21: Marta Vilalta (spokesperson, ERC) "It has been impossible since December 21 to invest Puigdemont."
---
We are academics working in the in the fields of law, human rights, politics, sociology, history and related subjects in 19 different countries.
Over the past two weeks we have seen a further escalation in the use of criminal charges and arrests continue to be used by Spain against its political opponents.
There can be no doubt that we are living the darkest days of Spanish democracy since 1978.
In addition to the four political prisoners and the high-profile detention of Carles Puigdemont, five more democratically elected politicians have been thrown in jail (Jordi Turull, Josep Rull, Raül Romeva, Dolors Bassa and Carme Forcadell). Seven others are in exile under threat of imprisonment. In addition to Clara Ponsati, a case that is familiar to your readers, those include Marta Rovira, Anna Gabriel, Toni Comin, Meritxell Serret and Lluis Puig.
Those in exile are being hounded by European Arrest Warrants issued under the auspices of the European Union. We write to demand their immediate release, and to demand immediate action from the European Union to stop this repression, which represents an indelible and permanent stain on European democracy.
Signed:
Professor David Whyte, University of Liverpool, UK
Dr. Mònica Clua-Losada, University of Texas Rio Grande Valley, US 
Professor Noam Chomsky, MIT, US 
Professor Saskia Sassen, Columbia University US 
Professor James K Galbraith, University of Texas – Austin, US 
Professor Fiona MacKay, University of Edinburgh Scotland 
Professor Leo Panitch, York University, Toronto, Canada
Professor Neil Davidson, University of Glasgow, UK
Professor Greg Albo, York University, Toronto, Canada
Professor Patrick Bond, University of the Witwatersrand, South Africa
Professor Akwugo Emejulu, University of Warwick, UK
Professor Imogen Tyler, University of Lancaster, UK
Professor Keith Ewing, King's College London, UK
Professor Nira Yuval-Davis, University of East London, UK
Professor Gilbert Achar, School of Oriental and African Studies, UK
Professor Armin Bernhard, Universitat de Duisburg-Essen, Germany
Professor Huw Beynon, Cardiff University, Wales 
Professor Tithi Bhattacharya, Purdue University, US 
Professor Andreas Bieler, University of Nottingham, UK
Professor Bill Bowring, Birkbeck, University of London, UK
Professor Rudolph Brauer, University of Bremen, Germany
Professor Mario Diani, University of Trento, Italy
Professor Simon Duncan, University of Bradford, UK
Professor Pablo Ghigliani, CONICET, Argentina
Professor Penny Green, Queen Mary University, London, UK
Professor David Howell, University of York, UK
Professor Ronnie Lippens, Keele University, UK
Professor Bart Maddens, Catholic University of Leuven, Flanders, Belgium
Professor Miguel Martínez Lucio, The University of Manchester, UK
Professor David McNally, York University, Toronto, Canada
Professor David Miller, University of Bath, UK
Professor Adam Morton, University of Sidney, Australia
Professor James L Newell, University of Salford, UK
Professor John Parkinson, University of Cranberra, Australia
Professor Scott Poynting, University of New South Wales, Australia
Professor Helen Richardson, Sheffield Hallam University, UK
Professor JP Roos, University of Helsinki, Finland
Professor Sebastian Scheerer, University of Hamburg, Germany
Professor Phil Scraton, Queen's University Belfast, Northern Ireland 
Professor Joe Sim, Liverpool John Moores University, UK
Professor Richard Sorg, Hamburg, Germany
Professor Paul Stewart, University of Strathclyde, Scotland 
Professor Steve Tombs, The Open University, UK
Professor Tony Ward, Northumbria University, UK
Professor Andrew Watterson, University of Stirling, Scotland 
Professor Peter Willetts, City University of London, UK
Dr Milica Antić Gaber, University of Ljubjana, Slovenia
Dr Alejandra Araiza Diaz, Universidad Autónoma del Estado de Hidalgo, Mexico
Pura Ariza, Manchester Metropolitan University, UK
Dr Dario Azzellini, Cornell University, US 
Dr David Bailey, University of Birmingham, UK
Dr Oscar Berglund, University of Bristol, UK
Marc Bosch i Matas, University of Amsterdam, Netherlands
Dr Jonathan Burnett, Swansea University Wales 
Grant Buttars, University of Edinburgh, Scotland
Dr Queralt, Capsada-Munsech, University of Glasgow, Scotland
Dr Sevasti, Chatzopoulou, Roskilde University, Denmark
Dr Yulia Chistyakova, Liverpool John Moores University, UK
Dr Vickie Cooper, Open University, UK
Dr Adriano Cozzolino, University of Napoli L'Orientale, Italy
Dr Gareth Dale, Brunel University, UK
Dr Jill Daniels, University of East London, UK
Dr Judith Delheim, Zukunftskonvent, Germany
Dr Julia Downes, Open University, UK
Dr Phil Edwards, Manchester Metropolitan University, UK
Dr Wolfram Elsner, University of Bremen, Germany
Dr Karen Evans, University of Liverpool, UK
Dr Cristina Flesher Fominaya, Loughborough University, UK
Dr Robert González Garcia, Universidad Autónoma del Estado de Hidalgo, Mexico
Dr Sofia Gradin, King's College London, UK
Dr Alexia Grosjean, University of St Andrews, UK
Dr Bue Rübner Hansen, Aarhus University, Denmark
Mike Harrison, University of South Wales, Wales
Dr Emily Luise Hart, University of Liverpool, UK
Sabine Hattinger-Allende, University Duisburg-Essen, Germany
Dr Fiona Henderson Glasgow Caledonian University, Scotland 
Dr Marion Hersh, University of Glasgow, Scotland 
Dr Michael Holmes, Liverpool Hope University, UK
Dr Laura Horn, Roskilde University, Denmark
Dr Feyzi Ismail, School of Oriental and African Studies, UK
Dr Sabine Israel, Leibniz-Institut für Sozialwissenschaften, Germany
Dr William Jackson, Liverpool John Moores University, UK
Dr Johannes Jäger, University of Applied Sciences BFI Vienna, Austria
Dr Paul Jones, University of Liverpool, UK
Dr Mark Kaswan, University of Texas Rio Grande Valley, US 
Dr Stephanie Khoury University of Liverpool, UK
Dr Nicholas Kiersey, Ohio University, US 
Dr Tor Krever, University of Warwick, UK
Dr Theocharis (Harris) Kromydas, University of Glasgow, Scotland
Dr Michael Mair, University of Liverpool, UK
Dr Paul McFadden, University of York, UK
Jo McNeill, University of Liverpool, and UCU UofL President, UK
Madelaine Moore, University of Kassel, Germany
Dr Carlo Morelli, University of Dundee, Scotland
Dr Jeffrey Murer, University of St Andrews, UK
Dr Féilim O hAdhmaill, University College Cork, Ireland
Christina Paine, UCU London Metropolitan University, UK
Dr Kirsteen Paton, University of Liverpool, UK
Dr Louise Purbrick, University of Brighton, UK
Dr Xavier Rubio-Campillo, University of Edinburgh, Scotland
Dr Pollyanna Ruiz, University of Sussex, UK
Dr Thomas Sablowski, Rosa-Luxemburg-Stiftung, Germany
Jordi-Sanchez Carrion, University of Liverpool, UK
Dr Jeffrey Stevenson Murer, University of St Andrews, Scotland
Dr Maka Suarez, Universidad de Cuenca & FLACSO-Ecuador, Ecuador
Dr Simon Toubeau, University of Nottingham, UK
Katie Tucker, Liverpool John Moores University, UK
Kristine Vanden Berghe, Université de Liège, Belgium
Jill Vickers, Carleton University, Ottawa, Canada
Dr David Webber, Southampton Solent University, UK
Dr Niall Whelehan, University of Strathclyde, UK
Dr Angela Wigger, Radboud University, Netherlands
Dr Owen Worth, University of Limerick, Ireland
Doug Yearwood, Queen's University, Canada
Dr Yuliya Yurchenko, University of Greenwich, UK
---
April 20: Enric Millo (PP, Spanish government delegate to Catalonia) "The sacking of the Catalan government's director general of foreign affairs, Marina Borrell, and the director of the School of Public Administration, Agustí Colomines, is dues to "behaviour contrary to the general interest".
April 20: (from April 14) The Spanish-patriotic media at work. "The Nazi footprint on the Land that released Puigdemont: Schleswig-Holstein, land of second opportunities" (El Español, in Spanish, accompanying graphic below).
April 20: (Politico, by Ignasi Ribó) The last thing Catalonia needs is more autonomy--Spain's flawed constitution is at the root of the Catalan crisis.
April 20: EU-Catalonia Dialogue manifesto launched in Barcelona by 40 MEPs
April 20: Web-based daily Publico publishes documents kept from Supreme Court judge Pablo Llarena by the Guardia Civil that confirm that the Catalan government did not fund the October 1 referendum.
April 20: Citizens announces that it has asked former French PM Manuel Valls to be its candidate for mayor of Barcelona in the May 2019 municipal elections.
April 20: (Carles Puigdemont) Congratulations Israel on the 70th anniversary of your Independence. Your struggle against adversity and your spirit of self-sacrifice has gained our respect in Catalonia.
              (CUP Catalan Lands) We do not respect the way how Israel has occupied, violated and killed Palestinian people. We'll never accept any apartheid or colonialist State. It is a shame to congratulate this racist, zionist and killer State of Israel. It must be condemned and sanctioned.
April 20: Report to UK parliament denies any Russian support for pro-independence movements (as claimed by Spanish media in the Catalan case).
April 20: Spanish government sacks the Catalan government's director general of foreign affairs, Marina Borrell, and the director of the School of Public Administration, Agustí Colomines, for their supposed role in allowing exiled Catalan culture minister Lluís Puig, address a meeting hosted by the Catalan government's delegation in Brussels..
---
Spanish secret service spying on Puigdemont in Berlin, according to Junge Welt
The Spanish secret service is spying on president Carles Puigdemont in Berlin, according to newspaper Junge Welt (in German), close to left-wing party Die Linke. "Former Catalan president Carles Puigdemont was clearly watched and shadowed on German soil. Detailed reports have been published in Spanish media about [his] daily routine", they write in an article entitled "Spies against Puigdemont".
According to the newspaper, a clear example is El Mundo. "Readers of the Spanish daily paper, close to the government, could find out on Monday what address Puigdemont is living at, at what time he met with his family, where they ate at midday and who he met with later in the evening," they report. They then quote the details: "the text goes on to say 'he lives in Charlottenburg, in the former West Berlin, one of the capital's most bourgeois neighbourhoods'. Even the street and house number were mentioned - and how much it costs to stay in the hotel per night."
This comes a day after the legal services of the Bundestag, the German federal parliament, warned, in response to a question from MP Andrej Hunko (Die Linke), that if Spanish security services had spied on Puigdemont in Germany it would have been illegal. They made that clear in their report and warned that any such action could have legal consequences.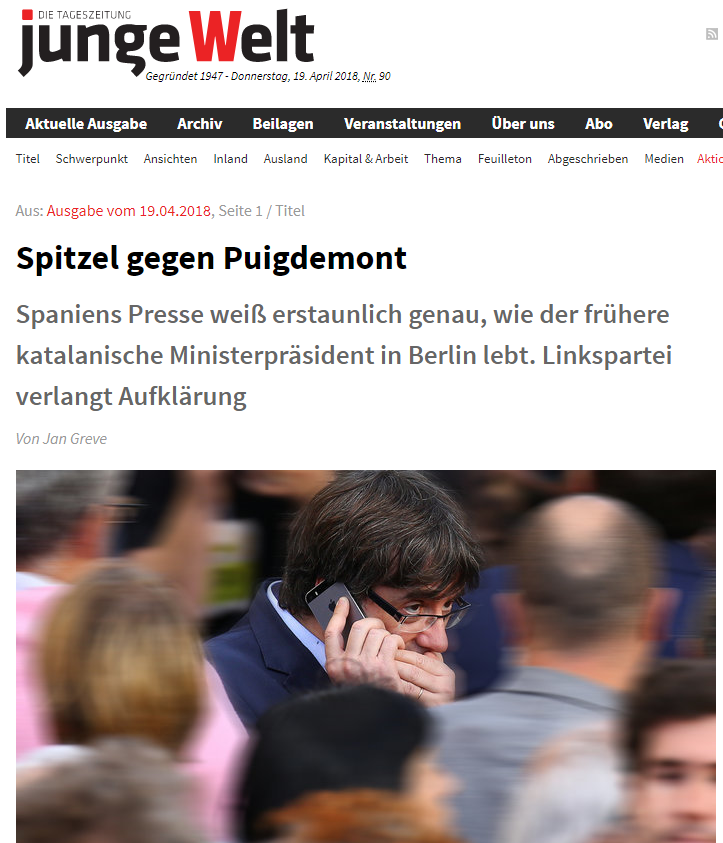 "Action by sovereign authorities without the consent from the German state entails several legal consequences: foreign secret service operations against the Federal Republic are punishable in accordance with § 99 of the Criminal Code. Spying on foreigners in the Federal Republic fulfils this criteria. The unauthorised collection of data can fulfil the criteria of a misdemeanour or felony according to the Federal Data Protection Act," the report says.
Hunko has presented a further question in the Parliament to clarify the situation. According to Junge Welt, this now puts the "focus" on whether there was cooperation between the BKA, Germany's federal criminal police office, and the CNI, Spain's intelligence agency.
Translation: El Nacional
---
April 19: Judge in Barcelona opens investigation into presumed spying by the Catalan police into the activities of unionist organisations.
April 19: The mayor of Geneva, Rémy Pagani, offers the city as mediator in the Spain-Catalonia conflict.
April 19: Citizens' leader Albert Rivera resigns from the UGT after its "support for the separatist coup".
April 19: Girona Council implements decision to change name of Constitution Square to First of October 2017 Square (below, councilors holding new plaque, which includes this saying of philosopher Xàvier Antich: "There's only one thing worse than forgetting. Not knowing that you've forgotten").
April 19: In reply to a question from Bildu senator Jon Iñarritu, Spanish government admits to pressuring foreign states to sack honorary consuls in Barcelona suspected of sympathy with Catalan independence process.
April 19: Javier Lamban (PSOE premier of Aragón): "The archive of the Crown of Aragon [presently held in Barcelona] belongs to Spain."
April 19: (EuroActiv) Ex-French PM Manuel Valls: no separatist solution in Catalonia
April 19: (The Herald, Scotland) Scotland praised for standing 'completely apart' in its support for Catalonia
---
Catalonia's crisis, Europe's wake up call
Nine Catalan politicians and social leaders (seven elected MEPs) are in pre-trial detention for up to six months. They have been accused of rebellion or sedition, and face between 15 and 30 years in jail. The so-called rebellion refers to the 1 October referendum, organised by Carles Puigdemont's government, in which more than two million Catalans voted despite the violence of Spanish police that left 893 people injured and was condemned by Human Rights Watch, among others. A rebellion organised with ballot boxes is indeed a strange rebellion.
Incredible as it may sound, at this point Catalan political prisoners have spent more time in jail for organising a referendum than members of the paramilitary group GAL who, following orders from the Spanish interior ministry, tortured and killed in Euskadi during the eighties -- a clear case of double standards.
Many Spanish unionists tend to forget that, as established in Article 472 of the Criminal Code, peaceful and orderly demonstrations do not constitute a crime of rebellion. What's more, calling, organizing and holding a referendum is not a crime in Spain after the relevant articles from the Criminal Code were removed in 2005. In fact, even declaring independence is not a crime according to Spain's Criminal Code. The misuse of funds charges also sound fake, taking into account that this week Cristóbal Montoro, Spain's finance minister, recognised that no public funds were used for the referendum.
The Spanish outrage at the so far unsuccessful attempt to extradite Carles Puigdemont for rebellion has been loud (for example a Spanish member of the European People's Party said that "If the European arrest warrant doesn't work, Schengen is useless") and aggressive (with a prominent Spanish commentator calling a German federal minister "racist"). However, the hypocrisy of this outrage has also been brought to light, as not so long ago, many former high-ranking nazi officials were protected from extradition in Spain. In the latest turn of events, the Spanish Supreme Court has harshly criticised the German court deciding on Puigdemont's extradition case, a move that has not escaped the attention of German media.
The fact is that the interpretation of Spanish law has been systematically biased against the Catalan pro-independence movement. The latest blow to its credibility has been the rejection by Spanish judge Pablo Llarena to allow imprisoned MP Jordi Sànchez to exercise his political rights and be elected as president of the regional parliament, as even the UN had advised in its precautionary recommendations. Llarena keeps Catalan leaders in prison because, due to their political convictions, there is risk of "reoffending".
The fundamental problem is that Spain's political transition, widely praised for decades, was deeply flawed. In the name of reconciliation, a big chunk of the Spanish deep state never faced reform, preserving its right-wing elites and practices inside the police, the military or the judiciary system. Contrarily to Germany, Francoism was whitewashed in Spain and the country's past was never confronted.