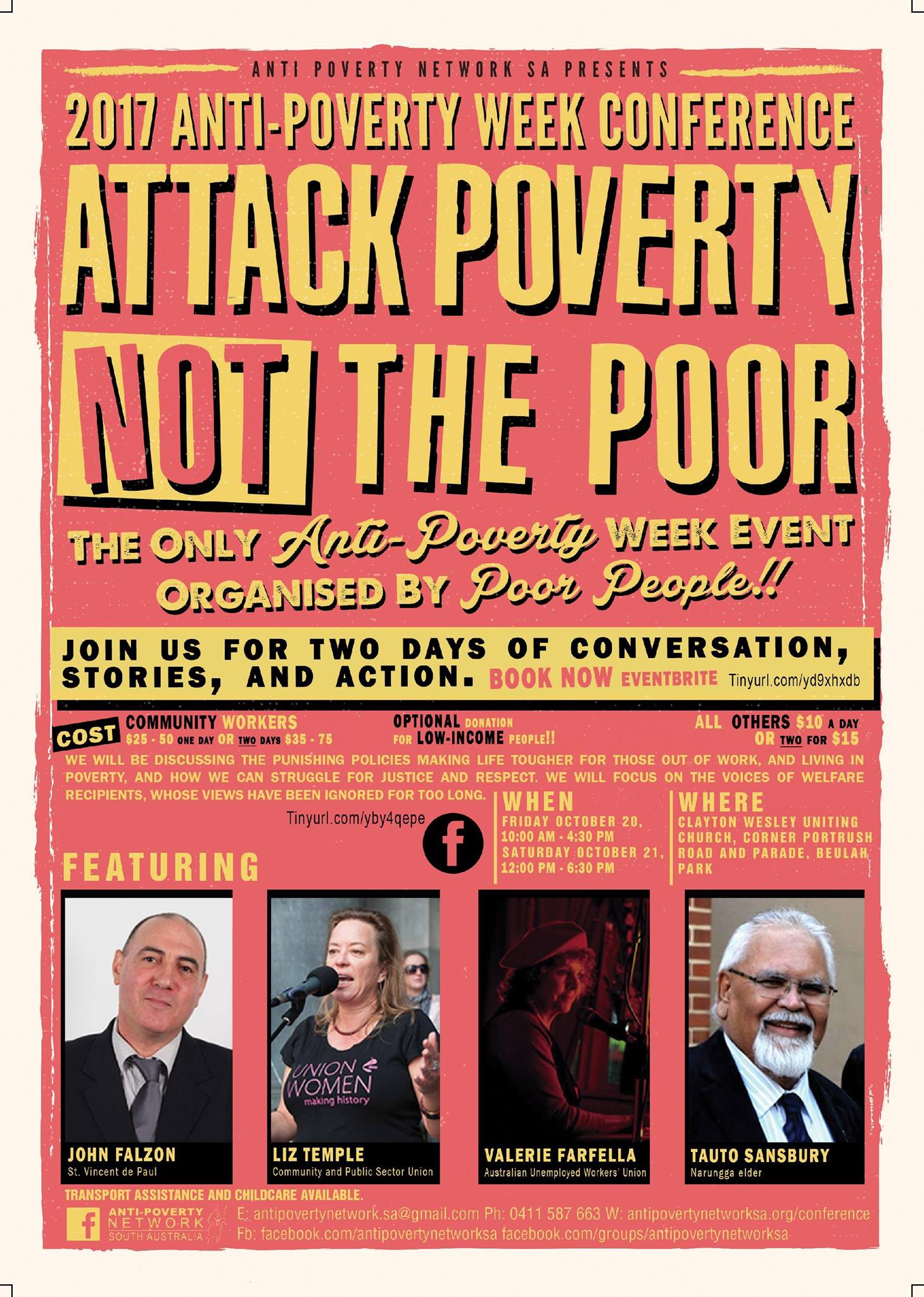 Friday, October 20, 2017 - 10:30

to

Saturday, October 21, 2017 - 19:00
ATTACK POVERTY, NOT THE POOR: 2017 ANTI-POVERTY WEEK CONFERENCE
WHEN: Friday October 20, 10:00am-4:30pm
Saturday October 21, 12pm-6:30pm
WHERE: Clayton Wesley Uniting Church, corner Portrush Road and Parade, Beulah Park
COST: Low-Income: Optional donation per day
Community Workers: $25-50 for one day, $35-$70 for two days
Others: $10 for one day, $15 for two days
FACEBOOK: Tinyurl.com/yby4qepe
EVENTBRITE (To Book Tickets): Tinyurl.com/yd9xhxdb
GO FUND ME (To Donate): Tinyurl.com/y86c5x4s...
Join us for two days of conversation, stories, and action. We will be discussing the punishing policies making life tougher for those out of work, and living in poverty, and how we can struggle for justice and respect. We will focus on the voices of welfare recipients, whose views have been ignored for too long.
Featuring Dr. John Falzon from St. Vincent de Paul, plus speakers from Auckland Action Against Poverty, Australian Unemployed Workers' Union, Australian United Sole Parents Network, and more.
TRANSPORT ASSISTANCE and CHILDCARE available.
E: antipovertynetwork.sa@gmail.com Ph: 0411 587 663
W: antipovertynetworksa.org/conference Fb: facebook.com/antipovertynetworksa facebook.com/groups/antipovertynetworksa