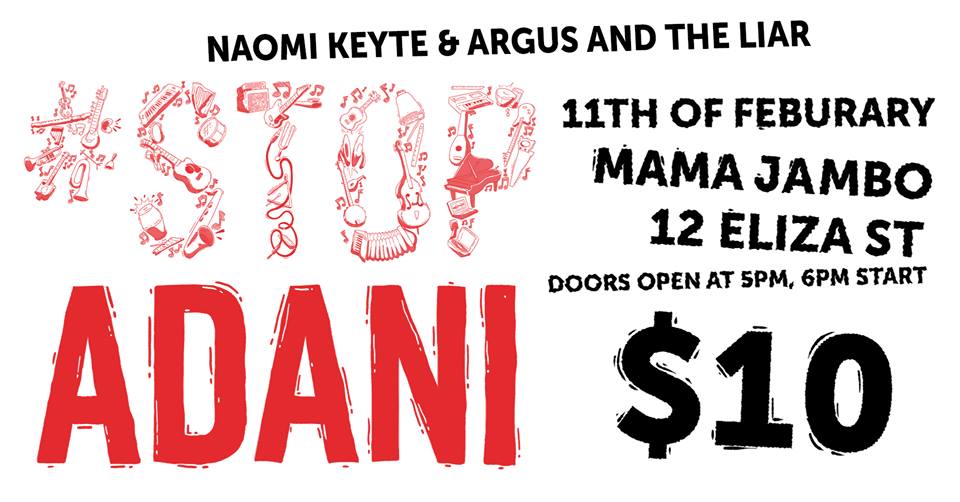 Sunday, February 11, 2018 - 17:00
12 Eliza st, Adelaide, South Australia 5000
Come along to a night of sweet tunes, tasty food and good company, as we raise funds for the ongoing campaign to stop Adani.
The Adani megamine disregards Indigenous land rights and has the potential to wreck the climate and the Great Barrier Reef.
With the Federal Government pledging 1 billion dollars worth of taxpayer dollars, they are looking to expand an already unsustainable industry, and turn a blind eye to the renewables based future that is necessary to stop the devastating effects of climate change.
All money raised will go towards the campaign.
Tickets $10
DOORS AT 5:00 PM
FIRST BAND AT 6:00 PM.
Joining us are brilliant Adelaide artists W.M.N, Naomi Keyte and Argus and the Liar.
W.M.N
https://www.facebook.com/wmnmusic/
Naomi Keyte
https://www.facebook.com/naomikeytemusic/
Argus and the Liar
https://www.facebook.com/argusandtheliar/
For more information on the campaign:  http://www.stopadani.com/