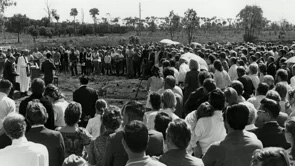 Tuesday, June 27, 2017 - 19:00
New England Friends of Green Left present Blood on the Coal - The Story of Queensland's Coal Miners and Their Union.
Written in the blood of mineworkers and their families, Blood on the Coal tells the story of Queensland's coalfields – one of the world's richest energy resources and for 150 years a bitter industrial battleground.
It is a story of struggle and survival, of courage and determination, of tragedy and triumph and of never giving up, even in the face of the most daunting challenges.
The stories in the film are told with compelling honesty, humour and wit by miners and their communities who survive in one of the world's most hazardous industries.
The film features harrowing underground disasters and heroic rescues. It traces a history of strikes and industrial turmoil, including the current push by global mining giants to destroy regional communities and replace local mineworkers with a subservient itinerant workforce.
Blood on the Coal puts injustice on the record, bears witness to the human cost of mining and reveals how ordinary workers and their families pay the ultimate price for corporate greed and government neglect - unless we stand together in solidarity and struggle!
At McCrossin's Mill in Salisbury Street, Uralla.