When then-immigration minister Scott Morrison made a video in September last year callously informing refugees and asylum seekers on Nauru that they would never be allowed to settle in Australia, he hoped at least some would ask to be returned to their home country.
But the video failed spectacularly. Not a single refugee or asylum seeker asked to be returned. Instead, angered by the video, they started a series of protests, hunger strikes, attempted suicides and instances of self-harm.
In October, as the detention centre exploded in protests and acts of self-harm by children spiked dramatically, and with the island barely under control, the Australian government decided to act.
Morrison ordered an independent review by former integrity commissioner Philip Moss into allegations of sexual and physical assault of asylum seekers, including women and children, in the Nauru detention centre, and reports that Save the Children staff were facilitating or encouraging protest and self-harm.
The report of that review, known as the Moss Review, which had been handed to the minister in early February, was released suddenly late on a Friday afternoon, as local media rushed to cover the announcement of Malcolm Fraser's death. If the minister hoped the review would be lost in the media coverage of Fraser's life, he was disappointed.
The review provided evidence and testimony indicating that sexual assaults, harassment, lack of privacy, and self-harm are integral to the lives of the 752 people who remain imprisoned in the Nauru detention centre.
New Matilda obtained leaked transcripts of interviews Philip Moss conducted with immigration department officials, omitted from the final report. They indicated that immigration officials were concerned that the situation on Nauru was "spiralling out of control".
The transcripts detail a "dramatically dysfunctional" detention regime and a divided workplace, where staff from different sections spy on each other, where emails, phone calls and Facebook pages are monitored, and where information is leaked to discredit colleagues.
The leaked transcripts revealed that former immigration department deputy secretary Mark Cormack believed Morrison was "shit worried" about Manus-style riots and deaths occurring in Nauru.
Cormack described the situation on Nauru as "five or six days of large scale disruption", which, "if not stopped could lead to a dramatic meltdown of a scale much worse than Manus, because there were kids involved, there were women involved, there are families involved, there are unaccompanied minors involved, and there weren't any [proper] fences really."
In late September, Cormack received a three-page security report alleging, without any corroborating evidence, that some staff from Save the Children — an NGO contracted by the department to provide social services for detainees — had become too close to detainees, and were assisting them in the growing protests and coaching them to self-harm.
Cormack said the minister "heartily agreed" to his suggestions that he prepare a list of people suspected of fomenting unrest and then dismiss them, and that the minister was "on my back" to make sure it happened.
Within a few days a list was prepared that named 10 Save the Children staff. They were ordered from the island at the government's insistence.
Yet the Moss review found "no conclusive evidence that there was any truth to these suspicions. None of this information [provided to the Moss review] indicated conclusively ... that particular ... staff members had engaged in these activities."
In fact, the Review found that most staff were dedicated, professional and acted appropriately when presented with information about assaults or abuse.
Refugee Council of Australia President Phil Glendenning said: "The Refugee Council questions why the Save the Children staff were so quickly removed when they had not been accused of assault or harassment and questions what happened to the staff who were accused of sexual and physical abuse. Were they swiftly removed from the detention centres or were they able to continue their work there?"
The Moss Review said allegations of sexual abuse of children and of women in the detention centre were known from as early as June last year. At least one rape allegation was reported in August, and other asylum seekers said they had been threatened with gang rape.
The review was unable to conclusively prove allegations of sexual and physical assaults, but it noted that the asylum seekers it interviewed were credible and their accounts were convincing.
Glendenning said: "What is particularly disturbing is that the Moss Review found that there was likely underreporting of sexual abuse claims. Some asylum seekers worried that reporting the abuse would have a negative impact on their refugee claims. Others felt that there was no use in reporting the abuse that they faced because they had lost confidence that anything would be done about their complaint."
The review identified inadequate living conditions for asylum seekers at the detention centre and added that asylum seekers were justified in their concerns about their personal safety and privacy. It concluded that the Australian government needs to improve infrastructure, policing and staffing, and ensure that staff are trained on issues of personal safety and privacy for asylum seekers.
Glendenning said: "What is clear from the Moss Review is that the government was unwarranted in publicly accusing Save the Children staff of misconduct and that asylum seekers, including children and other vulnerable groups, feel unsafe in the Australian-funded detention centre on Nauru. It is evident from the report that the current arrangements are insufficient to assure the protection of asylum seekers on Nauru.
"The government must also act to ensure that the victims of abuse are properly supported and that any perpetrators of abuse are quickly held to account."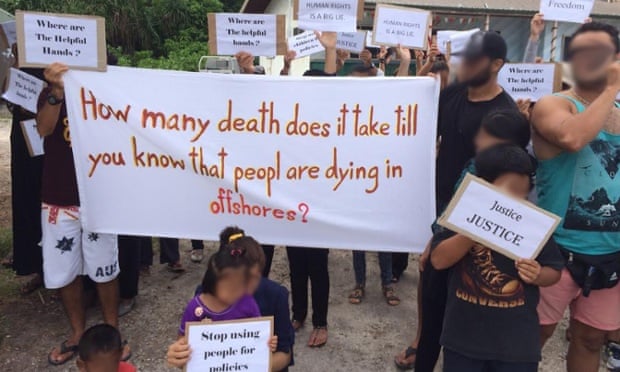 Like the article? Subscribe to Green Left now! You can also like us on Facebook and follow us on Twitter.